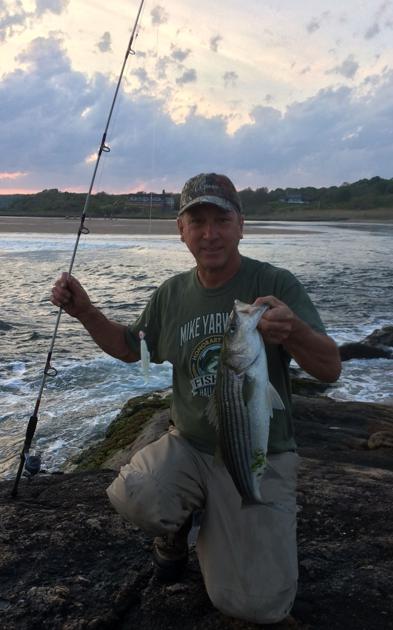 The first migrating stripers have shown along Jerusalem's West Wall. These new fish, fresh from a long migration out of the Hudson River and Chesapeake Bay are brushed with sea lice, hitchhikers picked up in open waters. While they tend to arrive in waves, the first round really gets fishermen worked up just for the feel of tight lines again. Small white or pearl Cocahoe Minnows or similar paddle tail soft plastics on ¼ to ½ ounce jig heads work great for calling them in close to the wall. When conditions are red hot, it's not unusual to catch and release thirty or forty fish in a session. These are young, hungry fish so please release them easily. Sending them for a head over tails toss does nothing for their insides nor their chance of surviving. We'll all be looking to catch and release those fish in a few years when they weigh thirty or forty pounds. 
The State is set to begin construction of a new fishing pier at the newly acquired Rocky Point State Park. This plan has been in the works for a few years with a goal of optimizing some amazing shorefront land. The pier will be 280-foot-long, built in the classic T-shape design with a shade structure, solar lights, places to sit and take in the views and railings that will "allow people of all ages and abilities to enjoy access to Narragansett Bay," according to RIDEM. The RI Saltwater Anglers Association worked hard to keep the focus on fishing. Visitors to the park can enjoy the trails, enjoy a postcard picnic or practice their rock climbing skills but RISAA wanted to pier to be a place where people catching fish would be the priority. That section of Narragansett Bay can boil with bluefish, scup and stripers.
On June 25-27, RISAA will host another amazing Youth Fishing Camp at the pier. If ever you needed to be reminded of how kids love to go fishing or how kind a group of volunteers can be to kids as they share lifetimes of knowledge with the next generation of fisherwomen and men and conservationists, watch RISAA teach young people how to cast, tie knots and be safe on boats. It's pretty refreshing in a bitterly divisive age. 
"Expanding shoreline and fishing access is core to our mission at DEM and we're thrilled that the new pier will enable anglers, regardless of their physical abilities, to experience the joy and bounty of fishing on Narragansett Bay," said DEM Director Janet Coit. "I hope that the public will benefit from this recreational investment and asset for decades to come." The pier is set to be finished by December at a cost of approximately $1.8 million.
The Kayak Centre in Wickford is hosting their Annual Demo Weekend on May 4 and 5. This is an excellent two days created just for you to see all the new models, ask a ton of questions, push a boat out into Narragansett Bay and see how you feel in different lengths, widths and styles. Matthew Bosgraaf is the co-manager/boat buyer and knows everything you'll need to know about kayaking. Matt has the kind of genuine smile that makes you want to stop into the shop just to say hello to him. He brings in vendors from several manufacturers to the North Kingstown Town Beach to help you understand the finer points of their particular boats. This year, companies including Old Town Canoes and Kayaks and their sister company, Ocean Kayak, Hobie, Feelfree, Current Designs, Perception, Wilderness Systems, Eddyline, and Valley Sea Kayaks will be perched on the beach with their mini-cabanas and more than likely, some swag. 
Of course, as paddle boards are all the rage these days, The Centre will also have a selection of boards for you to try from BIC Sport, BOTE and Surftech. They have the coolest motorized paddle board fishing machine you'll ever see in the store. I'm not sure how much caffeine the designer consumed before they approached the drawing paper but that rig is wild. 
This year, the beach on Saturday will be shared with VFW 5K and Salute to Service Festival Sponsored by Toray. So that means there'll be food trucks, even more vendors and, wait for it, a beer garden. Say it ain't so. All this fun on the beach comes with either a $5 bill or $5 worth of canned goods to be donated to the North Kingstown Food Pantry. And since you'll already be with Matt and his team, you can ask about their Full Moon Paddle on Friday, May 17. The Kayak Centre puts a lot of effort into their events and it shows with the high turnouts and how much fun people have while they shop and learn. Whether you walk the wall, walk the beach or walk along a paddle board, May is shaping up to be full of fish and new ways to get to them. 
Todd Corayer is a lifelong fisherman who lives not far from Rhode Island's Saugatucket River with his wife, who supports his fishing mainly to get him out of the house and a young son who consistently catches more fish than him.
Source: https://www.ricentral.com/arts_entertainment/walk-the-wall-the-beach-the-board-and-soon-the/article_864778c6-6cfa-11e9-954e-b36c584e2e38.html