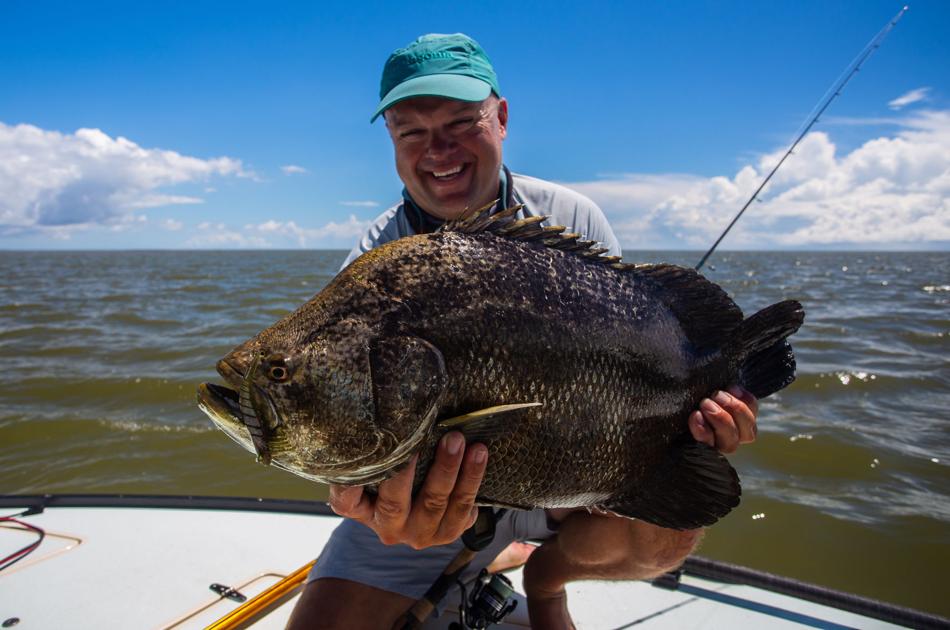 In 40 years of fishing and writing about fishing in the Charleston area, there aren't many species of fish I haven't seen. But the tripletail is one fish I've only seen in photos.
The tripletail is a master of disguise, often hiding in plain sight.
"I think you could drive your boat right by them and never know it was a fish," said Capt. John Irwin of Fly Right Charters (flyrightcharters.com). "I will call them out to people and they'll say 'No, that's a piece of trash.' I've never seen a fish that could sit there on the surface like a tripletail.
"If they're around a crab pot, sitting down on the rope, they almost look like something hanging off the crab pot, some old weeds or something. They just blend in so well.
"I know the ones I've seen offshore, if they're hanging out in the Sargassum, they take on the (bright gold) color of the Sargassum. In areas where there's a lot more freshwater, areas like the Broad River and Port Royal, the fish are black, very, very dark."
Tripletails are shaped like a freshwater bream on steroids. Irwin said the average weight of the tripletails he sees is about six pounds. During the 2018-2019 Trident Fishing Tournament, Irwin won the light tackle category with an 11-pound, 7-ounce tripletail. Larry Kohler, fishing with Irwin, won the general tackle division with a 12-6 catch.
The state record is a 33-pound, 8-ounce catch made in the Hilton Head area in 2005. The world record is 42 pounds, 5 ounces and was caught in South Africa. The fish gets its name because its dorsal and anal fins extend almost to the tail.
Irwin said he first began noticing tripletails while fishing for cobia in the Broad River in Beaufort and Jasper counties.
"I would see them on tidelines and hanging around chum boxes that had blown out of the back of people's boats," he said. "The more you talked about them, the more you heard about them. I talked to a friend of mine and asked how he was catching them. He told me that you have to fish for them, and he was right. As soon as you start targeting them and fishing for them, then you tend to find them."
Common places to look for tripletails are crab pot markers, buoys, obstructions and the Charleston Jetties. But they can be found, and caught, almost anywhere.
Irwin said he was fishing the South Jetty on an outgoing tide and "had one about the size of a trash can lid float by."
But you have to be willing to put in the time. Many anglers will check a couple of buoys and if they're not seeing fish they lose interest and move on to something else. The tidelines also are a good place to look for tripletails.
"They're kind of like tarpon. You have to put in a little bit of time and find them if you want to catch them," Irwin said.
As for bait, live shrimp are the ticket. Irwin said he prefers to freeline live shrimp on a 1/0 Owner SSW J-hook. Tripletails aren't leader-shy. Irwin will fish a section of 30-pound test fluorocarbon leader if they're hanging around structure. But he also said they are good sport on fly-fishing tackle. He wants a fly that floats and favors the Enrico Puglisi flies.
East Cooper Ducks Unlimited
The East Cooper Chapter of Ducks Unlimited was recognized as the 2018 Top Net Fundraising Chapter in South Carolina for the 17th time in the past 18 years at the SCDU State Convention held at Hickory Knob State Park.
Ducks Unlimited, Inc. also announced that East Cooper DU had attained the prestigious President's Roll of Honor status for the fifth year in a row by raising over $250,000 net dollars for wetlands habitat in calendar year 2018. At the convention, SCDU Chairman Brian Ford listed the East Cooper Chapter's SEWE Oyster Roast as the No. 1 net fundraising event and the Chapter's Shuckin' on the Yorktown as the No. 4 net fundraising event in the state for 2018.
The Top Chapter Award was earned by East Cooper by raising $384,823 net for 2018. That amount equates to over 1,500 acres of wetland and associated habitat conserved here in South Carolina and in the breeding areas to the north.
Source: https://www.postandcourier.com/tideline_magazine/fishing/tripletail-fish-an-underappreciated-target-for-sc-saltwater-anglers/article_7a79bfde-7e3b-11e9-a440-4b7e25527c8b.html