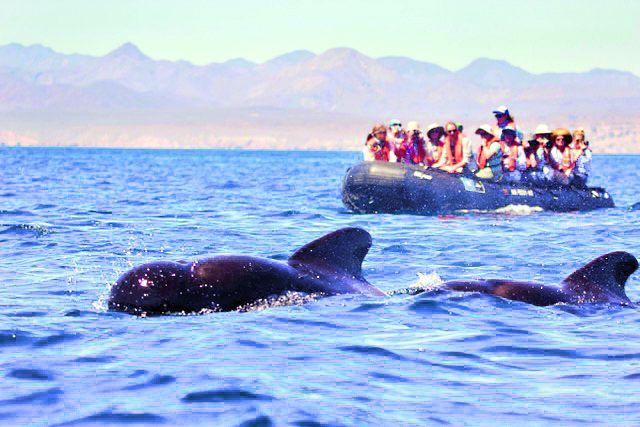 Editor's note: This story is one in an occasional travel series by Dr. Robert Burke, a local doctor who is sharing his experiences from a recent trip along the Sea of Cortez.
Jacque Cousteau called it "The World's Aquarium". Others have called it the "Mexican Galapagos". I call it simply beautiful.
Surrounded like a horseshoe by the Sonoran Desert, the Gulf of California is also known as the Sea of Cortez. The Baja California Peninsula formed as tectonic plate movements along the San Andreas Fault separated it from the mainland of Mexico 3.5 million years ago, creating the world's youngest sea and 200 plus islands. Home to the largest number of endemic species in North America, this place is indeed an "evolutionary treasure" of biodiversity. Plankton, nutrient rich waters, a 40-foot tidal change, deep basins ranging from 300 feet in the north to 12,000 feet at the end of the peninsula, and many upwellings enable this diversity. Fresh water from the Colorado River provided a unique habitat of brackish waters at its northern end for the endemic vaquita, which is the world's smallest porpoise. Sadly, this rare marine mammal will soon be extinct because of gill-net fishing and hyper-salinity due to diversion of the Colorado River. More than thirty other cetaceans, nine-hundred species of fish, numerous birds, California sea lions, many invertebrates, and unique reptiles such as the chuckwallas and spiny-tailed lizards call this place home.
Bonnie and I joined approximately fifty other adventurous travelers from across the USA for two weeks of exploration of both the Pacific and Gulf sides of Mexico's Baja California Sur (BCS) on board the National Geographic Venture (NGV) with Lindblad and its crew that included world re-known whale experts, naturalists, divers, and photographers. Our expedition included hiking across sand dunes of barrier islands and into the arroyos of desert islands, cruising the rough waters of the Pacific and the blue-green variably calm waters of the Gulf, snorkeling along the seashores and coral reefs, touring around many islands by zodiac boat, engaging gray whales up close in panga boats, kayaking and paddle boarding in protected calm bays, and daily searching for wildlife from the ship's deck. This journey was truly remarkable.
We flew into San Jose del Cabo at the tip of the peninsula. Prior to embarking on the NGV in San Carlos, we travelled by bus from the cape to La Paz, capital of BCS, for an overnight stay at Costa Baja resort on the shores of the Sea of Cortez, passing along the Pacific coast before crossing the peninsula through desert areas beneath the Sierra Laguna mountain range. From Costa Baja the landscape progressed from cacti strewn desert and arroyos to agricultural areas just outside of Puerto San Carlos. En route we passed isolated ranches and villages.  At Magdalena Bay we hiked across large sculpted sand dunes to a beautiful Pacific coast beach lined with literally hundreds of large sand dollars and thousands of colorful sea shells. Midway along the peninsula at Laguna San Ignacio, a world heritage site and protected breeding lagoon for gray whales, we experienced an incredible interspecies bonding as these whales and their calves snuggled close to our panga boats and allowed us to touch them! They were as curious of us as we were of them. Certainly, these close encounters in the wild were of the best kind. While sailing the Pacific we also saw several previously endangered blue whales and white-sided dolphins. On Isla Magdalena we hiked along a shell-covered beach to a seasonally-abandoned fishing village at a beautiful cove.
One of the joys we experienced daily was gathering on the bow deck to welcome a new day and catch the elusive green flash at sunrise. As we rounded "land's end" at the tip of the peninsula, the golden glow and warmth of the morning sun upon Friar's rocks was serene.  Excitement soon eclipsed the calm at the cape. Humpback whales could be seen blowing, breaching, flipper flapping, and swimming with their calves.
Hiking along the nearby San Jose Estuary was a great way to see warblers, frigates, ibisis, herons, pelicans, ducks, and other birds. On many of our zodiac boat tours in the gulf we saw several species of sea gulls, oyster catchers, blue-footed boobies, brown boobies, and ospreys nesting with their juveniles. The area around Isla San Jose was especially productive for wildlife. Snorkeling at Los Islotes, rocky islets that are part of the Archipelago de Isla Espiritu Santo National Park, was incredible as temperate and tropical fish were abundant. The wildlife activity on the rocks was as active as that in the water. Sea lions swam all around making acrobatic moves, staring into our masks, and occasionally nibbling at our fins. Warning bellows from male sea lions patrolling the shores were heeded. Soft coral was colorful and provided haven for many small fishes. Geologic structures at Puerto Gato were incredible. Red volcanic ash had strata of fossils, and fossilized sand dunes were unlike anywhere else. Hikes into the interior and up to the ridges provided outstanding views of the landscape and of the clear blue-green bay waters. The night sky was clear and beautiful as we enjoyed dinner under the stars and campfire camaraderie on the beach of a private ranch.
Bahio de Loreto National Park is a group of islands with many endemic flora, fauna, and marine species. Honeymoon cove there at Isla Danzante had a tropical appearing beach and waters in which we paddle-boarded and kayaked around the rugged cliffs and shorelines separating adjacent beaches. Dozens of dolphins followed our zodiac boats around these waters, breaching, porpoising, and playing hide and seek with us. Sea lions also spy-botted us. Our encounters with hundreds if not thousands of dolphins and sea birds amidst their feeding frenzies at different locations throughout the Sea of Cortez were indescribably exciting and special. Near Bahia Concepcion we were blessed with what the experts called a once in thirty years happening as hundreds of short-finned pilot whales surrounded our zodiacs and put on a spectacular hour-plus performance of tail-flapping, breaching, porpoising, bow-riding, and blowing. At Isla San Esteban we carefully hiked past nesting yellow-footed gulls into beautiful arroyos with tall cardon cacti and other flowering desert plants.  Spiny-tailed lizards were eating flowers of the cardon cactus, and chuckwalla lizards could be seen sunning on similarly colored lava rocks. Zodiac tours around nearby Isla Rasa gave us closeup views of Heerman gulls and elegant terns in their breeding grounds and more playful sea lions.  As we sailed south back toward La Paz in the gulf we once again spotted blue whales. Our explorations could not have ended any better than the afternoon we spent snorkeling, kayaking, and hiking on the beach and island at Half Moon Bay on Isla San Francisco.
Unlike the other end of the continent where the Florida Peninsula is threatened by submersion due to global warming and rising seas, the Baja Peninsula is threatened more by moving tectonic plate movements pushing it northwest. However, the increasing frequency and severity of storms wrought by global warming also threaten this precious area. Fortunately, Mexico has been proactive in protecting this area from urbanization, creating a network of national parks protecting these treasures and enabling their appreciation by future generations.
Source: http://www.tdtnews.com/life/article_964658f0-6da9-11e9-991f-2f2ca741781e.html