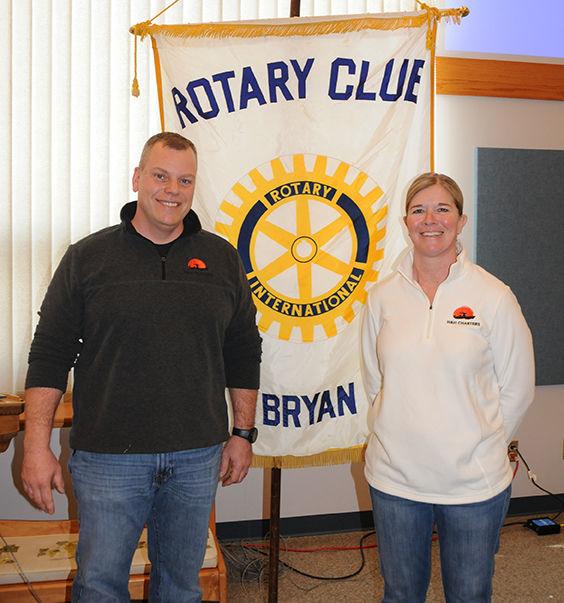 Bryan Rotarian Matt Wieland and his wife, Jen, shared with the club about their fishing and cruises charter business on Friday. His & Her Charters is based out of Marblehead, Ohio, and focuses on the western or central basin of Lake Erie.
"The Lake Erie islands have several reefs and shoals around the islands that are great stops for fishing," explained Matt.
Matt and Jen are both licensed U.S. Coast Guard master-level captains and have several years each of experience on Lake Erie. As licensed captains they have had extensive training, which includes "studying the rules of the road." Also involved in the training is chart plotting, star navigating and how to use a compass on the water.
"A compass can always be used, even if you don't have power," said Matt.
In addition, they are both certified in first aid and CPR.
The Wielands' vessel is "the unsinkable Boston Whaler," said Matt. They bought the Boston Whaler 250 Outrage new in 2017. The boat can carry up to 12 passengers and has an electric flushable toilet, has reached up to 50 mph, is comfortable and all sides are open for fishing.
Walleye is one type of fish that is commonly sought after in Lake Erie. "Walleye fishing is best in early spring," said Matt. "The fish must be 15 inches to keep."
Techniques that the Wielands use for Walleye fishing are jigging, during spawn season, crawler/worm harness — when the water is over 45 degrees — and trolling using planer boards and big boards.
Another Lake Erie fish is the yellow perch. "The perch is good table food and often used for fish fries," explained Matt. "Lake Erie perch fishing is best during mid to end of July. There is no size limit, and as of now the limit is 30 perch per person."
The small mouth bass is also a desired Lake Erie fish. "It is very fun to catch and will put up a fight," said Matt. "The small mouth bass can jump five to seven feet and averages three to six pounds."
If fishing isn't your type of relaxation, the Wielands also offer sunset cruises, which they like to do during the summer when the breeze is warm. Cruises can take someone to Marblehead Lighthouse, Put-in-Bay, Kelleys Island and Port Clinton.
Source: https://www.bryantimes.com/news/local/rotarian-speaks-about-charter-business/article_196b0d49-7ebe-51b9-9072-f1f48f3e9935.html