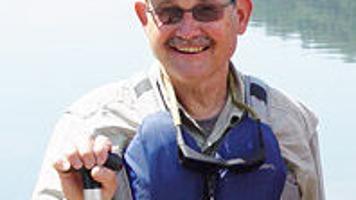 John Arway has decided to row the boat to shore as executive director of the Pennsylvania Fish and Boat Commission. After 38 years with the agency, John is retiring Nov. 2.
Since making the announcement, John has lamented that he hasn't been able to get a license fee increase across the goal line. That he failed to achieve a "sustainable future for the agency and its programs." Here is where I disagree with my friend.
What follows are thoughts of an outdoor writer who has called on John under the crunch of deadlines, sought background on smallmouth bass and the tainted Susquehanna River, and as a new Fish and Boat commissioner who leaned on his expertise as the agency's fish boss.
As a media member, I've always respected John's candidness and his diligence to return phone calls. I suspect some of those calls were made with a fishing rod in his other hand.
With John's guidance, the commission collaborated on efforts to have the river declared to be impaired so efforts to clean it up can be jumpstarted.
Having John as executive director weighed into my decision to join the board of commissioners. John exudes, for me at least, confidence and credibility at the helm. His presence made it easier to get on board, to be willing to join the pulling of oars.
For me, John has contributed to a "sustainable future for the agency" with his legacy.
The strength of John's leadership and financial stubbornness will carry the commission into the next phase that includes a successor. Under John, the commission has stood firm in that it will not spend more than it earns. An uncommon budget philosophy.
John will be missed. This won't be the last time you see his name in this place.
I plan to help select the next executive director who will continue to cast confidence and credibility in the process of making tough decisions, and representing the critters, anglers and boaters it serves.
John Arway's career as ED may have docked, but he'll still be out there "enjoying the bounties provided by Penn's waters and woods," he says. "I'll be the one sitting by the campfire surrounded by an army of grandkids roasting marshmallows and identifying constellations in the night sky."
Battle scars
Battle scars as badges of honor occupy special places in the hearts of special people and among those in awe of them.
Such marks of victory at the highest level serve as inspirational, permanent reminders that heroes face down breast and other cancers, and hostile enemies on the battlefield. For them, we can never extend enough respect and human pride for having the privilege of experiencing such spirit.
At the next level, we carry scars and carved bodies after battles with stones on our childhood driveways, flying objects that somehow found our faces, and stupid human tricks on playing fields.
As for lesser battle scars, I went to Lake Ontario for a king salmon contusion.
I was all-in for a fishing trip that would hopefully lead to internal bleeding. I cannot say that Don and Jerry agreed to the same deal.
The "injury" is the black-and-blue mark about the size of a silver dollar, earned when the butt-end of a deep-sea fishing rod grinds and breaks capillaries below the skin. For me, it erupts just above left hip bone.
Most black-and-blues surface from sudden and intense poke.
The king salmon contusion is earned by the prolonged pressure of good fights. It's a badge of victory. An after-action patch from putting fish fillets into the cooler.
On a day out of Albion, N.Y., after northwest winds pushed warmer water into the lake and fish became harder to find, a good king came to the lure in the first hour. It's always nice to put a fish in the box early in the day.
On the second day, it was spiraling steelhead that applied the pressure.
The full grandeur of the king/steelhead contusion developed as I wrote this.
It pales in comparison to the battle scars of real heroes, but I enjoyed the aching patch that came with being a sore winner with Lake Ontario king salmon.
Dollar day
Labor Day is also $1 dollar fishing day in Pennsylvania.
The Pennsylvania Fish and Boat Commission is offering a $1 fishing license for adult residents and nonresidents for Sept. 3.
"This is a great opportunity for lapsed anglers to renew their interest in the sport, and for first-timers to give fishing a try," Steve Kralik says. He is director of the commission's Bureau of Outreach, Education and Marketing.
The license, good for Labor Day only, provides an easy and affordable way for everyone to enjoy a special day with family and friends while fishing on the state's waters.
Source: https://cumberlink.com/sports/outdoors/bj_small/retiring-arway-will-be-missed-at-pennsylvania-fish-and-boat/article_61e48911-f7e8-524f-a387-d2fcd43a7de5.html