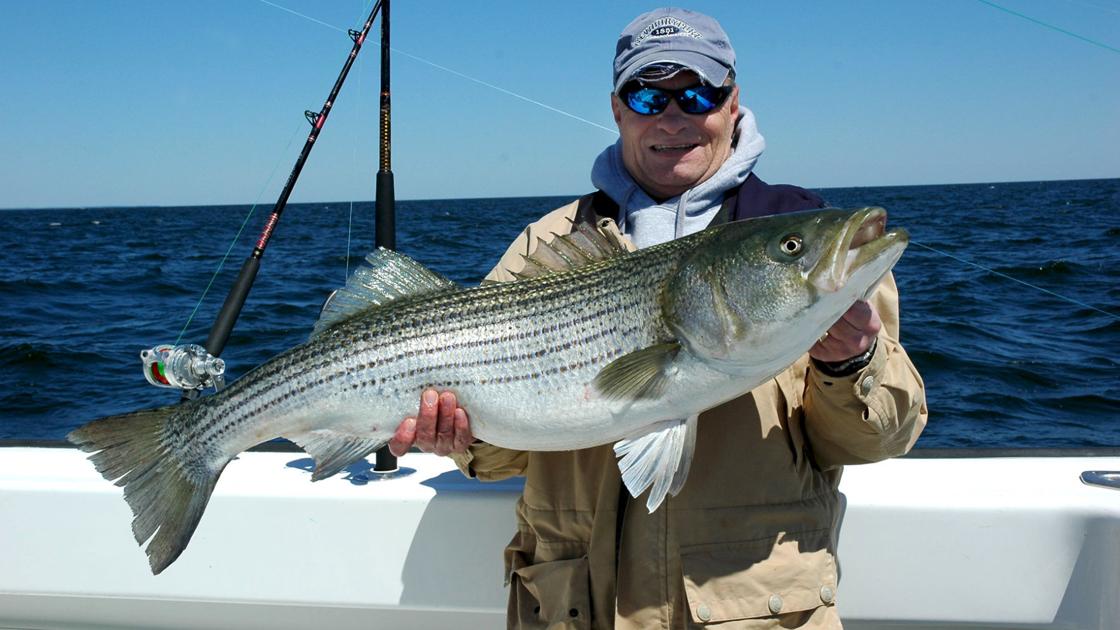 The Virginia Marine Resources Commission is considering banning recreational fishing for trophy-sized striped bass this spring in the state's portion of the Chesapeake Bay, its coastal waters and Potomac River tributaries because of indications that the species has been overfished.
Striped bass, locally called rockfish, are among the most popular species with regional saltwater anglers. Hundreds of charter captains and thousands of recreational fishermen target the fish throughout the Potomac and Chesapeake Bay region.
In Virginia's spring trophy season, which is set to run May 1 through June 15, anglers are allowed one striped bass 36 inches or longer per day.
The commission is scheduled to take up the proposed ban at its April 23 meeting, with a proposed effective date for the emergency regulation of April 29. The rationale for the moratorium is an expected final determination in May by the Atlantic Striped Bass Management Board that the large, mostly female rockfish that do most of the spawning are being overfished.
A preliminary assessment delivered to that board showed the estimated overall fishing mortality exceeded the established standard in 2017. Additionally, female spawning stock biomass (the estimated total weight of all spawning-size females) was 151 million pounds, significantly below the 202 million pound threshold.
Female striped bass mature and begin spawning at age six. They can live up to 30 years.
The announcement of the proposed closure states, "Overfishing has been occurring for several years, meaning the rate of striped bass removals from the stock has caused an overfished condition. The number of striped bass harvested recreationally by Virginia fisheries has declined markedly since 2010 when 368,000 striped bass were harvested from all tidal Virginia waters. In 2018, the preliminary recreational striped bass harvest was less than 52,000 fish."
Lewis Gillingham of VMRC's Fisheries Division said the agency's staff recommended pressing forward immediately to protect the large female fish. He noted that any changes in other coastal and bay fisheries for 2019 seem unlikely as the Atlantic States Marine Fisheries Commission works through its deliberations. The ASMFC coordinates conservation and management of 27 nearshore fish species.
"It takes them a while to get all the moving parts in motion and get a decision," Gillingham said.
An immediate closure of the trophy fishery in Virginia, though, may be more inspirational than impactful. Virginia's recreational catch totals are miniscule compared with the estimated catch of other coastal states.
The ASMFC reports that, from 2007 to 2014, total recreational landings along the coast averaged just over 25 million pounds annually. From 2015-17, recreational anglers harvested an estimated 16 million fish annually, with the decrease attributed to more restrictive regulations.
Max H. Appelman, ASMFC fishery management plan coordinator, said about 90 percent of the total striped bass catch in 2017 was from recreational fishing. Maryland landed 52 percent of the total fish in 2017, followed by Massachusetts (16 percent), New York (10 percent), New Jersey (8 percent) and Virginia (5 percent). These statistics reflect total fish, not just breeding-age females.
While Virginia is acting with urgency on the issue, the Maryland Department of Natural Resources and the Potomac River Fisheries Commission are expected to wait for the final ASMFC report and recommendations in May. Their recreational trophy striped bass seasons open April 20 and end May 15. The limit is one fish greater than 35 inches in length per angler each day.
Maryland DNR has a Sportfish Advisory Board meeting scheduled just before the start of the season, but an agency source said the state doesn't have any current plans to change this year's trophy season.
The popular spring season is robust, with many charters and marinas already booked. The expectation is that once Maryland DNR has the ASMFC recommendations, the agency will work with its stakeholders to implement a plan for 2020.
Martin Gary, executive director of the Potomac River Fisheries Commission, said he believes his organization will also look at reductions for 2020.
"Our Finfish Committee is scheduled to meet May 22, with the full commission meeting June 7. I'm sure the issue will be discussed at these meetings," Gary said, adding that he believes the trophy striped bass season in the Potomac will proceed this year according to the adopted regulations.
"I don't think it makes a lot of sense for our advisory group to react to something. I think we're going to handle this incrementally," Gary said. "When the ASFMC technical committee goes back to their board, they will show us a plan for getting back to our target and threshold. We can then discuss that and figure out a way to move forward."
Gary said the process could involve either a draft addendum or amendment to regulations, followed by public comment periods in the affected jurisdictions and final approval later this fall, with requirements to implement reductions in 2020.
Striped bass populations crashed in the 1980s due to a combination of overfishing and poor environmental conditions, leading to stringent harvest restrictions that included a five-year moratorium in Maryland waters.
"Back when the trophy striped bass season was first being considered, charter captains were eager for their clients to have a chance at catching one big fish," Gary said.
Widening success soon morphed hope into an expectation that everybody on the boat would catch a trophy fish. As a result, fishing tackle and techniques became more elaborate. While many boats used to set out and troll a few lines, the standard today is to run planer boards far off each side and troll spreads of up to 20 or more rods.
Gary said his talks with Atlantic Striped Bass Management Board members across multiple states reinforces his belief something needs to happen to preserve the fishery.
"We've had a pretty good ride but, maybe we need to dial back expectations," Gary said.
Source: https://www.fredericksburg.com/news/state_region/overfishing-assessment-may-lead-virginia-to-ban-recreational-fishing-for/article_6d9f2e74-3394-50d7-999d-abe30b0d26e0.html