It seemed like voters couldn't agree on anything at the 2019 annual Oak Bluffs town meeting two weeks ago. A proposal to enact an Island-wide housing bank led to fierce debate; high school funding was shot down; spending on a communication tower was reduced. But a $19,782 expenditure to study and find predators for an invasive toxic jellyfish in Farm Pond?
Approved unanimously.
That's because few people in town are more respected than David Grunden, the longtime — and longer-bearded — Oak Bluffs shellfish constable whose 50-plus academic papers on everything from invasive sea squirts to evasive eelgrass bottoms have done just as much to protect the town's sacred saltwater ponds as a badge ever could.
An Oak Bluffs native, stout in both stature and spirit, Mr. Grunden is set to retire in June after 19 years on the job, during which time he has stewarded the town through nearly two decades of aquatic habitat advocacy and leadership. And although officially a constable, Mr. Grunden considers himself equal parts lawyer as he is lawman — a fishermen's diplomat with a marine biologist's diploma.
"When this job opened up, I threw my hat in the ring," Mr. Grunden said. "And 19 years later I think it was the right decision."
With $3 million raised in grant funding, and millions more in quahaug, scallop, steamer and oyster seed developed over his two decades on the job, it suffices to say the town thinks so as well.
Mr. Grunden grew up in the Oak Bluffs campground, the son of a Methodist minister who was transferred to the Island for work. He quickly grew to love the town, and particularly the water surrounding it on three sides.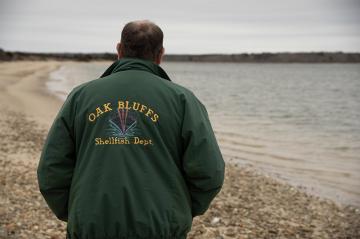 Mr. Grunden leaves big waders to fill. His passion for research has brought both expertise and dollars to the town's saltwater ponds. — Jeanna Shepard
"When we moved to the Island I got the opportunity to be in the water all the time," Mr. Grunden said. "It just fascinated me."
After receiving his marine biology degree from Barrington College, Mr. Grunden worked a few intermittent shellfish jobs before taking a position as a biological technician aboard U.S. flag tuna purse seiners. He spent months in the tropical eastern Pacific, collecting data from the topdeck of fishing boats.
"My shortest trip was 64 days, and my longest trip was 88 consecutive days without seeing land," Mr. Grunden said. "It was a lot of sea time."
Mr. Grunden came back to the Vineyard to recuperate, and pretty much hasn't left since. Although he held other town jobs before shellfish constable, that one stuck, allowing him to combine his passion for research with his love of the water. While a lot of shellfish constables focus on enforcement, Mr. Grunden prefers to focus on everything else. The enforcement then falls into place.
"I've brought this research component to the town because the more I know about my ponds, the better I can manage them, and the better decisions I can make," Mr. Grunden said. "We are not as aggressively patrolling and doing enforcement because we are doing a lot of other monitoring. I think you can get more compliance with education than with regulation."
Over his 19 years as constable, Mr. Grunden said he'd be surprised if he wrote more than five citations. Of course, violations are common, but Mr. Grunden prefers a stern slap on the wrist, or more like a carefully worded lecture.
"I tell them, see, if you keep taking these little tiny ones, they might taste tender in your clam sauce tonight, but in two years it will be an adult," Mr. Grunden explained. "We try to keep people happy. But, you know, there's been times when the fishermen have not been happy."
Three years ago, Sengekontacket Pond had an abundance of very large seed scallops — or scallops that had not fully reached adulthood. In order to protect the stock, Mr. Grunden decided to keep the pond closed for the season.
"That winter, coincidentally, I had water put in my gas tank and the lugnuts on one tire loosened," Mr. Grunden remembered. "That's where I say, yeah, they were upset."
Overall, however, Mr. Grunden said the part of the job he would miss the most is chatting with the shellfishermen, seasonal or not, who frequent the ponds. He remembered one summer on Sengy when four generations of the same Island family came out on the water to clam together, the eldest with a basket attached to her walker.
"She'd get down on her knees, dig with her hands, find the quahogs, and put them in the basket," Mr. Grunden said. "Then she'd waddle over a little further with her walker and do it again."
Mr. Grunden's favorite part of the job was unquestionably the research. During his tenure, he's worked with an alphabet soup of agencies to build permeable wastewater barriers, study nitrogen levels in the ponds and survey muddy bottoms for eelgrass restoration. He has also increased the town's aquaculture program to include oysters or as Mr. Grunden calls them, the filter-feeding bivalve money crop, at little to no cost to Oak Bluffs. In 2004, Mr. Grunden went to Hawaii for a shellfish conference. While there, he networked with the EPA who had funding, but no location, for a five-year study to develop modeling for bay scallop restoration efforts.
"I convinced them to do the project in Lagoon Pond," Mr. Grunden said. "And I've had the EPA doing work in Oak Bluffs and in other pondas on the Island every year since."
Research has been a part of Mr. Grunden's life as long as he can remember, and the animal he's always enjoyed studying the most is the scallop.
"My favorite's the scallop," Mr. Grunden said. "They're prettier, they're more active."
When Mr. Grunden ran a scallop hatchery for Taylor Seafood, the company selectively bred for brighter colors. While the orange color was good for business, Mr. Grunden knew from his research at the Virginia Institute of Marine Science that it wasn't good for seed in the area.
"Even though the orange scallop was the dominant gene, once we put them out, there was a higher predation rate. They stood out too much," he said
What Mr. Grunden discovered about the orange colored scallop wasn't just something he didn't know. "That was something nobody knew," he said.
Now, Mr. Grunden is at the forefront of developing what he calls "skunks," or camouflaged scallops with a dark top shell and lighter strips around the edges.
"The research we're doing, it's research because it is cutting edge," Mr Grunden said. "We're not trying to duplicate someone's efforts to prove them. The research is still find something new."
That's why rebellious Oak Bluffs voters were more than willing to spend $20,000 to study an invasive, silver-dollar sized clinging jellyfish Mr. Grunden discovered in their ponds. And not only that, when the crowd found out he was retiring, Mr. Grunden received a standing ovation.
"Town meeting was a surprise," Mr. Grunden said. "I was very honored, and it was very humbling too. It was something I did not expect at all."
Mr. Grunden's office, a small room in the Oak Bluffs highway department shack off County Road, subtly belies that humility. Every mantle that isn't filled with a jar of preserved coldwater tunicate specimens has an award or degree, listing him as an "Ocean Hero" or steward of the seas. One from the Massachusetts House of Representatives reads: "Whereas Mr. Grunden's selfless acts comport with ancient traditions and standards established by stalwart and enterprising predecessors who enabled neighbors of different calling to share in the bounty of the sea which washes the shores of our Commonwealth; therefore be it resolved that the Massachusetts House of Representatives commends David. W. Grunden for his tireless efforts on behalf of the Martha's
Vineyard Shellfish Group and extends to him its heartiest best wishes for future endeavors."
The commendation is dated Sept. 14, 1977.
"Yeah," Mr. Grunden said with a wink. "Over the years I've been able to decorate my walls."
Source: https://vineyardgazette.com/news/2019/04/25/oak-bluffs-quahog-cop-hangs-his-waders