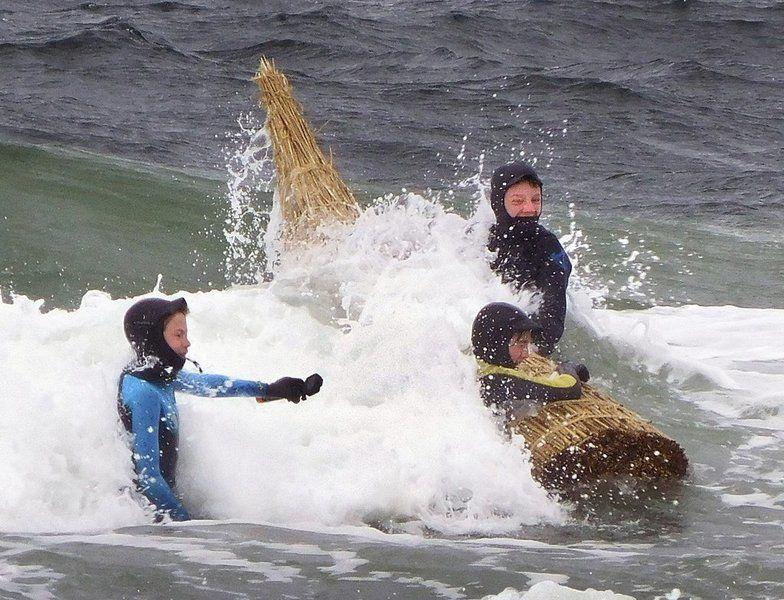 NEWBURYPORT — Rough winds and rocky tides were no match for six Rupert A. Nock Middle School students who built and launched a biodegradable reed boat off Salisbury Beach on Monday afternoon following months of researching alternative uses for invasive plants.
Seventh-graders Sasha Leydon, Gianna Minichiello, Aidan Clarke, Will Pflaum, Caleb Bradshaw and Will Roelofs have been studying the Great Marsh — a long, continuous salt marsh extending from Cape Ann to the southeastern coast of New Hampshire. The Great Marsh includes nearly 30,000 acres of saltwater marsh, mudflats, islands, sandy beaches, rivers, dunes and other bodies of water.
Specifically, the students were learning about phragmites australis, a tall non-native perennial plant that grows in wetlands and along shorelines, said science teacher John Reynolds. The reeds can grow 15 feet tall and suffocate other plants, creating dense, forest-like clusters.
The students learned about the dangers phragmites — an invasive species — pose to the Great Marsh, including stealing nutrients and space from fish, plants and wildlife.
They also block access to water for swimming, fishing and other recreation and block views from shore. In addition, the grass can be a fire hazard, students noted.
In November, Nock students participated in the Coastal Science Conference to share their findings from Mass Audubon's Salt Marsh Science Project with local scientists, teachers and fellow students on the North Shore. Students were challenged to come up with alternative uses for the prolific phragmites.
One solution was to create a kayak-like watercraft modeled after an ancient Peruvian fishing boat, which is typically hollowed out for storing fishing nets, Reynolds said.
"The reed boat project is a great example of what is possible when students are allowed to learn outside of the school building," Reynolds said. "They begin by researching similar boats made from reeds in Peru, then they design their own version of the craft based on the characteristics of our local invasive reed phragmites australis."
The seventh-graders spent nearly a month and a half harvesting the reeds, removing the leaves and seed heads, and bundling and tying the stems after school. Reeds were tied in small sections, which were eventually secured for a 14-foot boat, Sasha said.
"We used so many of them," she said. "There was a visible path from where we took them."
The species is spread by wildlife, the transfer of soil and windblown seeds, according to the students. The reeds can also adapt to the environment and root, including in salty marsh conditions, Reynolds said.
Although the Atlantic Ocean offered choppy waves, students put on their wet suits and hauled the boat to the shoreline on a blue tarp. From there, they pushed it out to sea and took turns sitting on top of the reed bundle and paddling. The boat can seat two to three students at a time.
Reynolds, an experienced surfer, has been leading the project for six years and oversaw the successful construction of three boats.
"They are motivated by a sense of accomplishment and the prospect of finally launching their boat in the surf," he noted. "At every stage of the process, there are tangible lessons in science, technology, engineering and math, ethnobotany, plant biology and environmental science."
Reynolds said the students' boat was on display at the Green Expo, which showcased many environmentally friendly practices. Some students are using the boat project for a community stewardship project and others are using it as part of their Great Marsh research, including Caleb, Will Pflaum and Will Roelofs.
"We've been doing research together for the last six months," Caleb said. "We've been trying to find resources we can use to build boats and reduce the overpopulation of phragmites in the marsh."
Caleb and his classmates filmed the launch and shot footage of themselves in the ocean using a GoPro camera. The documentation will be part of a school presentation this week.
Reynolds noted the hands-on experience is beneficial to what the students are researching and learning in the classroom, in addition to creating something good from something bad.
"That's kind of the allure of it, to build a biodegradable boat and to do something constructive with this invasive species of grass," Reynolds said. "They're taught all through school that's the enemy and it's bad, but you can do something useful with it." 
Staff writer Amanda Getchell covers Newburyport and Seabrook. Follow her on Twitter @ajgetch.
Source: https://www.newburyportnews.com/news/local_news/nock-students-make-their-own-boat-from-reeds/article_41f7405d-6719-52a5-8095-66330bd55fed.html