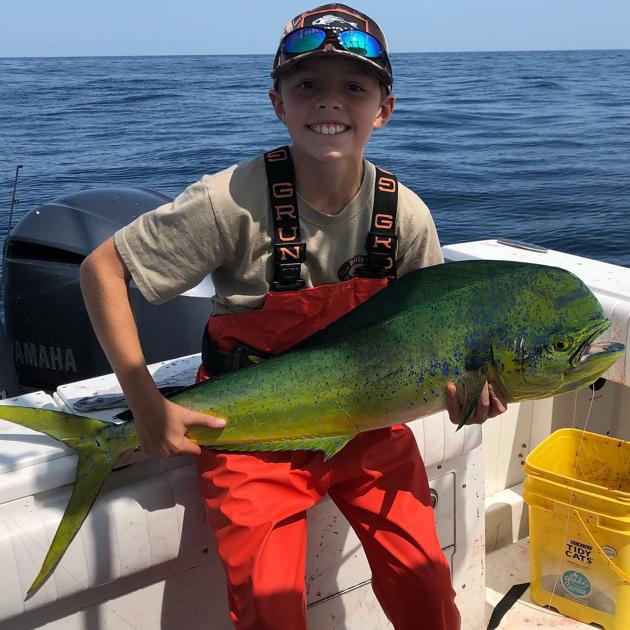 Bonito are still running strong, with some false albacore being caught along our coastal shores.
Newport and Narragansett, RI., are hot spots, with fish now being caught along the Massachusetts shore.
Ed Parisi, a bonito and false albacore fishing expert from Tsunami Fishing Tackle, shared his thoughts on how to hook one of these speedsters at a Saltwater Anglers Associations Monday night seminar.
One of my take-aways from the meeting was "lighten up." Bonito and false albacore are very sensitive to line and tackle in the water.
"These fish have large eyes, like most species form the tuna family and can see very well," Parisi said. "They rely on their sight a lot when feeding so the more you have in the water in terms line, leader thickness and swivels the greater the chances are that these fish are going to see it and not bite.
"I use a 15-pound braid with a 10- to 15-pound fluorocarbon leader with direct tie offs and no swivels. I have never had a breakoff using this weight line as long as my drag was set properly."
Both bonito and false albacore are hard to catch, but thrill fishermen with their furious runs stripping line from light tackle, giving anglers a memorable fight.
Many times, false albacore and bonito are mixed in with striped bass and bluefish. They can be caught from boat and shore with lures and even on the troll.
They are generally no more than two feet, weighing four to five pounds, but have been caught as large as 12 to 15 pounds.
Atlantic bonito are part of the same mackerel family (Scombridae) as tuna. Their meat has a darkish color and a firm texture, with a moderate fat content.
The meat of young or small bonito can be of lighter color, close to that of skipjack tuna. They are often grilled or baked, however, false albacore are usually not eaten.
Three types of lures are often used to catch bonito and false albacore… tin or metal lures such as Deadly Dick's and Kastmaster lures; soft plastic lures; and metal jigs and epoxy lures/jigs that are weighed and designed to skim the upper portion of the water column or surface.
The shiny metal lures are traditional baits, although they often have difficulty working the surface if that is where the fish are.
Anglers are forced to move them quickly through the water to keep them high in the water column. Epoxy lures or jigs are often weighted so you can cast them far, but yet they can be worked on the surface or lower in the water column.
Where's the bite?
Freshwater. John Littlefield of Archie's Bait & Tackle, Riverside said that "the largemouth bass bite at Olney Pond at Lincoln Woods has been pretty good."
Warm water has slowed down the trout bite at area ponds and lakes but it is expected to pick up as the water cools and ponds are stocked by the state for fall and winter fishing.
Cape Cod. Angler Ray West, president of the Massachusetts Striped Bass Association (MSBA) said, "The fishing at the Cape Cod Canal has been off for the past ten days. It was lights out two weeks ago. We hope things pick up later this week."
West uses his bicycle that is tripped out for striped bass fishing to ride the Canal to find the fish. The MSBA has been serving as a strong voice for recreational anglers since 1950 in Massachusetts and the nation.
They hold monthly meetings on the fourth Wednesday of the month. For example, on Sept. 26 at 7:30 p.m., the topic will "Reading the Water," a seminar given by Peter Jenkins, owner of the Saltwater Edge, surf and fly fishing outfitters located in Middletown, R.I.
Peter will address how to read the water and coastline when fishing from shore to find the fish. Visit www.msba.net for details on the seminar and the MSBA.
Summer flounder (fluke), black sea bass, scup. "It has slowed up a bit with massive piles of scup moving on to the fluke grounds," Capt. Frank Blount of the Frances Fleet said. "High hook still left with limits of fluke to 10 pounds. Along with these piles of scup are more and more sea bass to five pounds."
John Littlefield of Archie's Bait said, "Mostly short 12- to 13-inch summer flounder are being caught at Conimicut Point with the fish just a little larger at Warwick Light. There are plenty of scup everywhere with Tommy cod being caught along with them. Customers at Block Island were catching black sea bass on the southwest ledge when their baits went down to the bottom."
We picked up a nice black sea bass when trolling for striped bass on the Southwest Ledge at about 7 a.m. Sunday.
Holly Frye of the Tackle Box, Warwick said, "During the day customers bottom fishing in the Bay are catching a slot of scup, sand sharks along with Kingfish and sea robins. They are not finding many fluke keepers in the Bay at all."
Striped bass, bluefish and bonito. Striped bass fishing has been on and off. Mostly on, but you still can make the trip to Block Island and not hook up with large fish.
This past Saturday, the striped bass fishing at Block Island was not good, although the bite was pretty good prior to then.
We fished the Southwest Ledge Saturday morning and did not do well.
John Littlefield of Archie's Bait & Tackle said, "We had customers fishing the south west ledge at night Saturday and the largest fish they caught was 38 inches … the fish were small but they did catch 20 of them in total."
The bonito bite continues to be very good. Anglers continue to catch nice fish off Newport, Narragansett and Scarborough Beach. John Littlefield of Archie's Bait said. "We have sold a ton of Deadly Dicks so I know anglers are targeting bonito."
Offshore. John Baldwin of Rumford said, "We went deep Friday chasing tuna and a nice temp break at Fish Tails in the canyons (70 miles south of Montauk, NY). No tuna, but two small mako sharks and a ton of great mahi. My son Everett hooked up with them while we fished with squid and spinning reels at some high flyers (buoys) and other spots."
Source: http://www.thesunchronicle.com/sports/local_sports/monti-lighten-up-to-catch-bonito-false-albacore/article_008804ee-f77a-5be6-b59e-eaa3e0bf470b.html