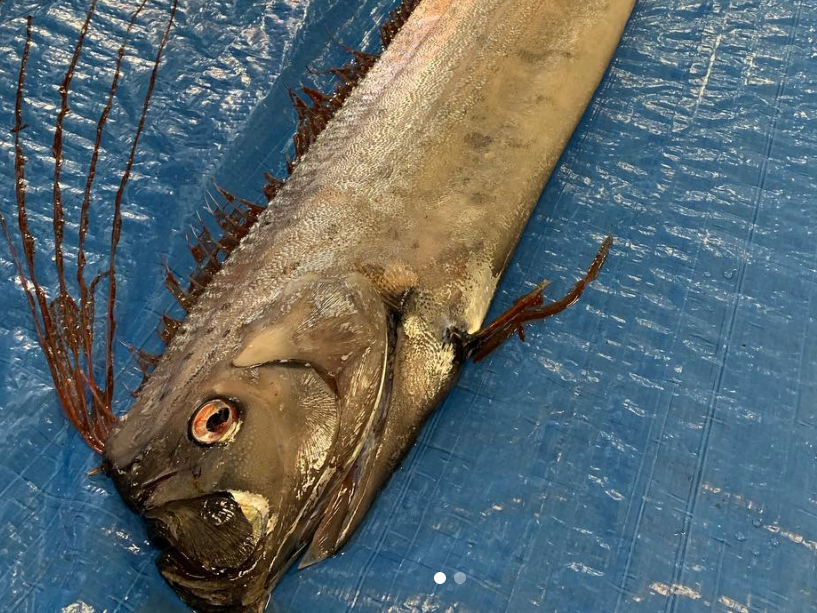 The discovery of growing numbers of colossal oarfish in fishermens' nets in Japan have raised fears of an impending natural disaster as the appearance of the usually deep-sea-dwelling species has long been considered a harbinger of earthquakes and tsunamis.
One specimen measuring just under 4m was accidentally caught in a fixed net about 1km off Imizu, in Toyama Bay, off Japan's north coast, on Monday.
At least three others have been found over the past week, and two were found earlier in January.
Join Independent Minds
For exclusive articles, events and an advertising-free read for just £5.99 €6.99 $9.99 a month
Get the best of The Independent
With an Independent Minds subscription for just £5.99 €6.99 $9.99 a month
According to the Uozu Aquarium in Toyama bay the first confirmed oarfish sighting in the area came in 2009, since then 20 have been found with four of those in 2015.
The appearance of the distinctive species, which is distinguished by a long silvery body and red fins, has reportedly left marine biologists perplexed. Oarfish are a relatively rare bycatch, as they live between 200m and 1,000m (650ft to 3,200ft) below the surface.
But finding several of the creatures, which are known as "Ryugu no tsukai" in Japanese, or the "Messenger from the Sea God's Palace," has long been believed to be an omen of natural disasters including earthquakes and tsunamis.
According to the region's Fisheries Research Institute, the water temperature at the surface in Toyama Bay is several degrees higher than average, while at deeper depths – between 200m and 300m, the water is cooler than usual.
Speaking to the Straits Times, Satoshi Kusama of Uozo Aquarium said: "[Finding several in a row] is said to be the forerunner of an earthquake or to be influenced by ocean temperatures, but research is scarce and we don't know the cause."
The myth that sightings of the fish are a forerunner to disaster gained currency following the 2011 Fukushima earthquake and tsunami, when more than a dozen oarfish washed up in the preceding year, the Japan Times reports. 
Yoshiaki Kai, assistant professor at Kyoto University's Maizuru Fisheries Research Station, told the paper: "I have never heard of so many of them coming up like this. There have been occurrences of fishermen releasing them into the sea after catching them in stationary nets because they couldn't sell them on the market."
Support free-thinking journalism and subscribe to Independent Minds
The most recent fish's carcass was on display at Uozu Aquarium over the weekend.
Source: https://www.independent.co.uk/news/world/asia/japan-tsunami-earthquake-oarfish-deep-sea-coast-toyama-bay-a8762196.html