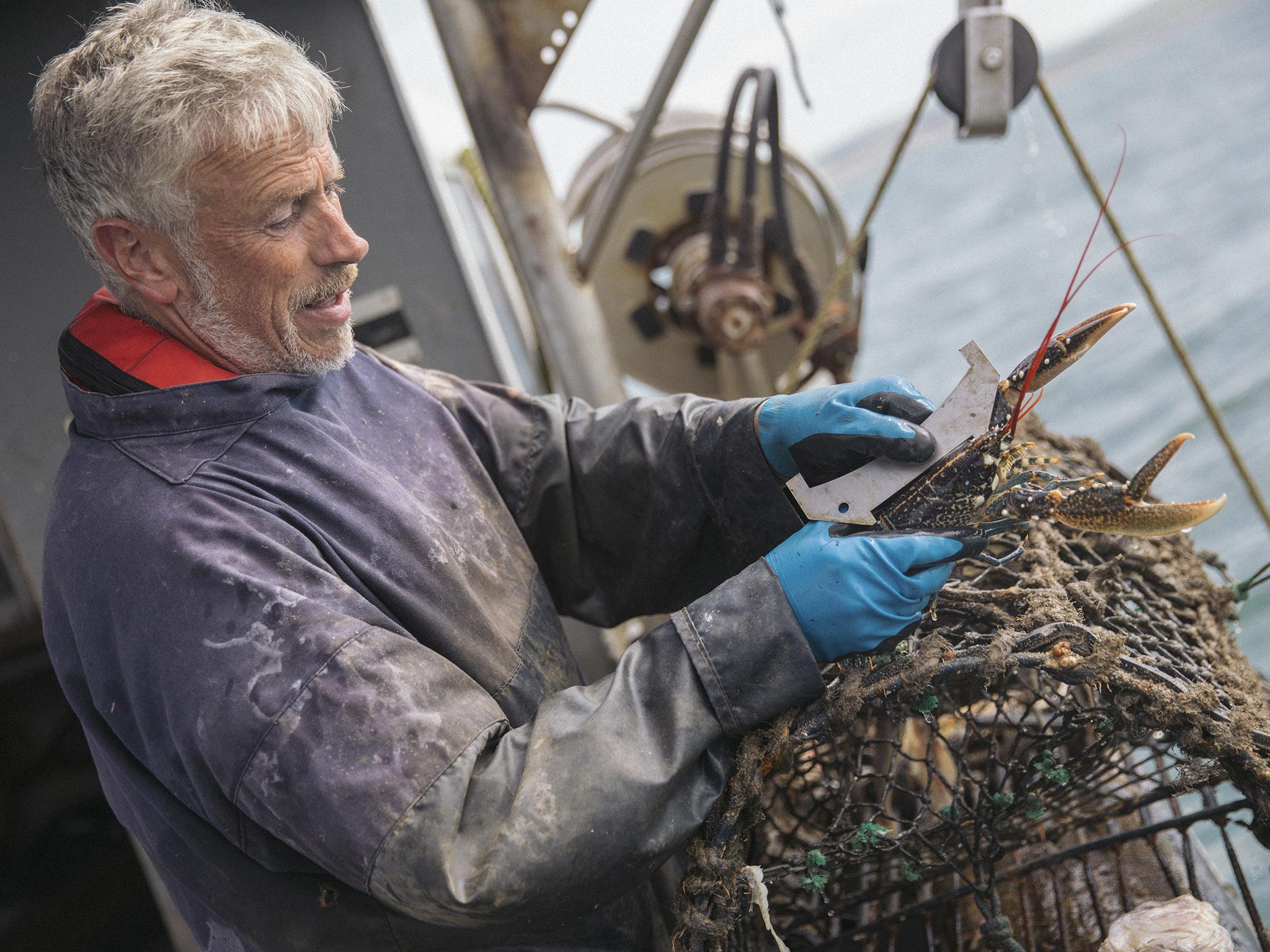 The 10 or so fishermen I spoke to in Lyme Bay – that breathtakingly beautiful arc of unspoilt coastline between Portland Bill and Start Point that straddles Dorset and Devon – all told the same story. Fishing is in their blood, otherwise they wouldn't do it. But they are, to a man, concerned about the future of fishing, choked like detritus in a net by the Brussels-imposed bureaucracy of the Department for Environment, Food & Rural Affairs (Defra) and the looming uncertainty of Brexit.
Their contempt for quotas is intense. The quantity and type of fish the men can catch is texted to them arbitrarily by Defra on a weekly basis: break the rules and they will be fined by the fisheries inspector. After Brexit, their hope is that the UK can take back control of the quotas and fishing rights for the nation's inshore fishermen. Matt Toms, a fisherman at West Bay who fishes up to 4-5 miles out, says: "I'm presuming we'll take control out to 12 miles [at the moment foreign vessels come up to the six-mile mark]. But we can only go up to 12 miles from the French coast." So much for entente cordiale.
These are the guys who take their "under-10s" (boats less than 10 metres) out to fish for crab, lobster, bass, cod and skate (ray) from West Bay, Lyme Regis, Beer and Axmouth – just as their fathers and grandfathers did before them. Yet these small boats still have to comply with quotas set for the big trawlers that scoop up all marine life in their wake, leaving the seabed smooth and devoid of its natural ecosystems.
Harbourmaster at Axmouth, Angus Walker says: "There are about 600 registered boats from big companies that get 96 per cent of the quota, leaving 3,000 independents in England with 4 per cent – it's ludicrous. In the Channel we have zero rating this month and last month for cod so we can't catch any, yet there is loads in the sea. We've got to come up with a better system."
Of course, no one knows what will happen post-Brexit. But there are rumours that tariffs of up to 8 per cent could be imposed on lobster and crab; environment secretary Michael Gove is asserting that no foreign boats will be allowed within six to 12 miles of the UK coast and that the UK will become an "independent coastal state", taking control of its waters up to 200 miles.
"We will take back control of our territorial waters, and for the first time in 50 years, we will be able to grant fishing access for other countries on our terms," adds Defra. "We will allocate quotas on the basis of what is scientifically sustainable, making sure we have a healthy marine environment and profitable fishing industry."
The fishermen remain cynical over such political promises. Dave Sales – now in his 80s – is still lifting pots over the side of his small boat, Shelley Marie. A direct, no-nonsense man, he is a big fish in the industry (pardon the pun), dropping environment secretary Michael Gove into conversation and consulting with fishing committees around the country. "I started fishing crab and lobster in Lyme Bay in 1957, and I've been in West Bay 37 years. When it comes to quota, the problem is that the government doesn't care two hoots about the small man, but we still have to abide by the rules and regulations.
"There's one word that describes the fishing industry and that's 'greed'. There are so many small boats fishing out of Lyme now that in a couple of years there won't be any fish left. They're all using miles and miles of net. I look back and think 'thank goodness I've had my day'."
Angus agrees with Dave's views on the government: "With a pen, in an office, the attitude of Defra has done more damage in the past decade than fishermen have done in the past 1000 years. They focus too much on single species. The guy from the MMO (Marine Management Organisation) regularly comes down here and has a coffee with us to talk about the issues we're facing, but I can't remember the last time I saw someone from Defra."
Many of the fisherman I spoke to felt quotas should be axed for small boats. West Bay fisherman Jamie Smith says: "There's only so much you can do and the weather restricts us. The big boats threaten our livelihoods, as well as those of the boat builders, fuel suppliers and gear suppliers." Matt takes a similar view. "They may say it's done for conservation issues, but to me the biggest conservation issue is the weather. If we can't go out, we can't catch the fish. If you're looking to conserve the fish, start with reserves and the right method of fishing."
Quotas aren't the only bugbear. Each boat also has to have a licence, based on its catch history, which becomes progressively more expensive as they are capped. Matt explains: "Some boats are only allowed 300kg of fish under quota; others can catch just shellfish, just fish or both. So if an uncapped licence comes up for sale it's very expensive. Capping is also a way of taking out some of the boats that don't catch a huge amount. To buy a small boat like mine with bass entitlement costs a fortune. The boat might be worth £10,000 but the licence can be £30,000."
Fortunately, help is at hand in the form of a charity, the Blue Marine Foundation (Blue). Set up in 2008 by some of the team behind the award-winning documentary The End of the Line including environmentalist Charles Clover, Blue creates large marine reserves worldwide to encourage sustainable fishing models and improve biodiversity. Its aim is to protect 10 per cent of the world's oceans by 2020 and 30 per cent by 2030.
The 206km sq Lyme Bay Fisheries and Conservation Reserve was established in 2008 after years of campaigning to stop trawling and dredging across certain types of ground. Persuading fishermen, conservationists, scientists and regulators to work collaboratively, Blue has proved there is a sweet spot between fishing and conservation where you can fish less but catch more with guaranteed quality.
Morven Robertson of Blue explains how it all began. "We had a meeting in a cafe in West Bay at which the fishermen almost chucked our UK Director Tim in the harbour. There had been years of trying to get this MPA (Marine Protected Area) created … Way before us, the Dorset Wildlife Trust had been campaigning because Lyme Bay has the UK's largest population of pink sea fans, beautiful coral that supports lots of marine life, including juvenile scallops. Since the formation of the reserve, the population of pink sea fans has increased eight-fold.
"The fishermen were worried about the way things were going and in 2008 the government agreed to create an MPA which pushed out all trawling and dredging. But then, other potters and netters started to fish in the reserve as they knew their nets wouldn't get damaged or their pots towed away. It created a honey pot – the area was saturated.
"So the fishermen came to Blue and said that although the area had been protected they weren't seeing any benefit as there was too much potting and static gear – as a result, they were left fearing the imposition of a total ban on fishing and their livelihoods. We now have 32 boats and 59 fisherman signed up to our code of conduct, following sustainable fishing methods which conserve habitats and boost fish stocks. Other fishermen do work the bay, but if someone tries to put down too many pots they will tell them not to."
They've noticed the environmental benefits of the reserve, too. Axmouth fisherman Bob Carless says: "You can see the effects the reserve is having on the seabed. Before you get out to the six-mile limit, the seabed is full of life, undulating, natural. But as soon as you hit the six mile mark, you can see where the dredgers have left it totally flat."
The Marine Conservation Society compiles a national rating system that chefs and suppliers use as a go-to when finding out what's sustainable and what they should be cooking and eating. But, as Morven explains, it's completely unfair for small fleets like Lyme. "One of our fishermen sells to River Cottage and they are saying that John Dory is now a no-go as well, but ratings are based on available data often for other larger offshore fleets or boats using fishing methods we can't use here. To obtain a rating that accurately reflects local stocks and low impact of the inshore fleet Blue is gathering data on these species with the fishermen to provide credible evidence on which to base a local rating.
Just a few weeks ago the MSC, the global fisheries certification scheme announced that mackerel in the northeast Atlantic had been stripped of its blue tick. Now people are concerned we shouldn't eat mackerel either, but what about all the guys who catch it here in the summer, with rod and line. Is that sustainable?"
Forming the reserve has been hugely beneficial for the fishermen, in an industry where solidarity is vital, says Morven. "We provide them with a route to market for sustainable fish, which they sell at a premium, and regular meetings; they often spend all day fishing alone, so it's great to give them a voice." Matt agrees: "We're sitting down with the MMO, the Fisheries etc and they're listening to us. That would never have happened before. Blue is giving us a mouthpiece."
Even before Blue came along, the fishermen have always seen themselves as guardians of the deep. Jamie says: "There's no point in catching everything today or there will be nothing for tomorrow. Matt and I look at the sea as the bank. If you rob the bank, there's nothing left." Matt agrees: "It's our culture and heritage – it's not just about money – so we have to fight to protect it. We're incredibly lucky to have the reserve, as it's made it a much more viable proposition for the small boats to go out of here and earn a living."
For Jim Newton, fishing out of Beer, sustainability is a given. "It's our livelihood so we don't need to be told not to catch fish that are spawning. If cuttlefish eggs are found on our pots we have to leave them in the water – often for weeks – until they hatch, which of course affects our catch of lobster and crab.
"For the past 20 years we've also been collecting tons of plastic from the sea as it can clog up our nets and pots … Yet all that gets focused on is a tiny pile of fishing line. The number one plastic we find is those plastic beads used in packaging".
Morven explains that Blue has also helped define sustainability. "Our research showed that fishing with 250 pots is the sustainable level; any more damages the reef and sees a decline in lobster and crab. They were fishing with many more pots and wondering why the lobster stocks were crashing. Now we've seen a 4.5-fold increase in lobster, which benefits everyone." 
Charlie Ziemann, a fisherman in Axmouth, says: "To me, sustainability means being able to go out again and again and again and catch the same amount of fish. We're not taking more than is being produced."
On the back of the reserve's success, Blue launched the Reserve Seafood brand in 2015, which now champions 29 species of premium, provenance-assured fish and seafood caught in Lyme Bay Reserve and sold to markets and restaurants across the UK. Fish in the reserve are caught by hand diving, static nets, pots or rod and line – mainly, lobster, crab, pollock and flat fish such as sole and plaice.
Paul Shearing, executive chef at London's Roast restaurant in Borough Market, is an ambassador for Reserve Seafood. He says, "For me it's been a journey of discovery. I get my fish for the restaurant from all over the country … These days, with fish farming, you can get on the phone and specify exactly what size you want. So I came down here fishing last summer with my nine-year-old son Alfie and got chatting to the fishermen.
"Once you get out here you realise sustainability is subjective, it's not just a buzzword. What the government says, and what you hear in London, isn't necessarily true.
"It's a bloody hard story … The guys can't earn money at some times of the year, they're out in all conditions. It made me realise how out of touch we chefs are to complain if a mackerel is 50g over the weight we've asked for. Yet fish is a natural product, migratory and seasonal, so of course every fish is a different size.
He has seen, first hand, how unreliable quotas can be. "When I was out on the boat in Lyme with them they said 'We reckon you could walk across the sea bass round here there's so much of it'."
To showcase how wonderful this fish and seafood is, we gathered at the lovely Kingfisher pub in Colyton, run by fisherman Mark Dack and his wife, where Paul cooked up some fantastic seared scallops with black pudding, crab and apple, and pollock with beurre blanc: simple, quick, delicious food.
Blue also gives practical help. "We built chiller units and installed ice machines, funded by the EU and maintained by the fishermen," Morven explains.  "They used to pack their catch in coolboxes or cover it with wet carpet, then drive for three hours to Plymouth and back. They now put their fish in there and it's taken off to Plymouth market three times a week. The chillers have been such a success that they now want to build another building next to the chiller with lobster tanks – at the moment, if the weather's rough lobsters are out in the pots rattling around, getting damaged or dying.
The next stage is to increase awareness of Reserve Seafood, with plans to display the logo where it's sold and promote the brand through their website www.lymebayreserve.co.uk complete with bios of the fisherman. The hope is that consumers will look out for the fish and create demand, as well as choosing to eat in restaurants that showcase this sustainable approach.
Technology has its place too. "There's an app on their phones and when they get on their boats they go through a geo-fence in the sky," Morven explains. "So you can see exactly where the fish was caught. We can map this data on top of the habitats, to see which parts of the reserve are important for certain fisheries … The rays seem to congregate on sandbanks; one year we saw that all the pollock were being caught on one particular reef. And if they fall overboard, their phones send an SOS signal."
It's dangerous work all right but, talking to them, you sense they find the physical challenges quite exhilarating … It's hard to imagine any of them doing a conventional office job. Bob laughs: "Someone recently told me I'm living the dream, but then I showed him a video from the time on the boat when we had water coming in during a 5-6 [gale]. A guy had to crawl along the deck and manually pump the water out."
Jim adds: "It's what I've done all my life. My father and grandfather were fishermen, two of my uncles still fish. Brett, my cousin, fishes from Lyme. My son runs the shop. But I can see this finishing when I finish.
"You used to get boys coming down here to mess about on the boats at weekends, helping the fishermen with odd jobs and learning about our lives. But they don't come now. Fishing isn't seen as a desirable career."
He does admit it's hard work: "I've only been out for half a day this week, and won't be going out again until Monday, so that's five days without fish – or income. We all have to have jobs on the side, such as building work and day tripping. And here in Beer we have to drag the boats up onto the beach using a tractor and wooden planks under the boats, greased with fat from the fish and chip shop."
Despite the red tape, quotas, storms at sea and sheer unpredictability of what he does, seawater clearly runs through his veins. "People sometimes say 'Oh, you're just a fisherman', but the job is highly skilled. You need to know where the fish are, how to predict the weather and stay safe."
It's no surprise to learn that the fishermen look out for each other – just hearing their laughter and banter over who's the best fisherman and the best darts player reveals an incredibly strong bond. "Even if we've been on a night out, we'll all pass by the harbour on the way home in our glad rags and count the boats to make sure everyone's in."
Angus adds, "We've had fishermen's societies down here since the 19th century. Most people don't really understand our world. We wouldn't expect joe public to know about it, but those in charge of the industry should. Yet Defra can't even tell us how much fish there is in the sea."
With so many obstacles and challenges, it's easy to wonder why they still do it. Their comments were illuminating. Matt says, "If you looked at it purely financially you'd go off and do something else. What I love most is being close to nature: nothing can beat seeing the sun rise over the sea."
Bob in Axmouth agrees: "I love being out there with no one hassling you. We're the last of the hunter-gatherers. For me, it's an escape. I turn my phone off and it's just me and the sea. I go out sometimes in my little 5-metre boat – usually 18 miles or so, but it can be up to 28 miles – and come back with nothing. But when you go out mid-morning, the sun over the sea is beautiful. We see lots of gannet, dolphins, even a killer whale outside Lyme Regis Bay once." Perhaps it was the man from Defra.
Visit bluemarinefoundation.com for more information
---
We'll tell you what's true. You can form your own view.
At The Independent, no one tells us what to write. That's why, in an era of political lies and Brexit bias, more readers are turning to an independent source. Subscribe from just 15p a day for extra exclusives, events and ebooks – all with no ads.
Source: https://www.independent.co.uk/news/long_reads/fishing-brexit-fisherman-defra-mmo-blue-a8781086.html