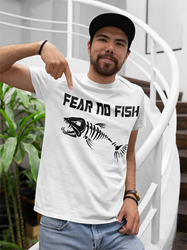 ROCHESTER HILLS, Mich. (PRWEB) April 26, 2019
InkUpAmerica has been in the T-Shirt business since 2004. Here at InkUpAmerica, we pride ourselves with the best quality T-Shirts in the industry. Our top of the line printers allow us to provide our customers with any design they can think of. All of our t-shirts are made and printed in the United States. Orders ship within 24 hours, and the best part is that shipping is free on all orders.
As the fishing season begins, InkUpAmerica is excited to announce the new collection of fishing t-shirts. Our fishing t-shirts collection offers a wide range of different designs, colors and sizes. Offering our customers, the widest selection of fishing designs is one of our core priorities.
Our t-shirts are 100% cotton pre-shrunk, true to size for an easy order. Our t-shirts come in a variety of sizes from small all the way up to 6XL. As far as colors go, our t-shirts come in black, charcoal, navy, heather grey, Texas orange, Kelly green, royal blue, lime green, yellow, red, military green, denim, pink, tan and heather green. That's right, we've got almost every t-shirt color you will love.
Whether you are getting ready for your next fishing trip, or you just want to show the world what fishing means to you. http://www.inkupamerica.com/collections/fishing-t-shirts is the go-to website when it comes to finding the best fishing t-shirts out there. You'll be sure to find a fishing shirt for men of every taste, preference, or need with distinctive styles of Fishing T-Shirts. InkUpAmerica's fishing shirts have evolved from the original men's fishing t-shirt to the standard in performance, fit, & coastal living. If you're loyal to a certain fishing brand, plan on showcasing your dedication at the docks or at your favorite fishing spot with graphic fishing shirts. With a slew of hues, intricate artwork and graphics featuring marine species, seascapes and visions of the open water, sporting fishing apparel is a treat. When it comes to graphic fishing T-shirts, there are as many fun and unique designs as the anglers that wear them!
Even if it takes you all day, you're determined to land your next bite. Stay comfy while you wait patiently in one of your favorite graphic fishing shirts. Men's and boys' fishing apparel made of reliably soft fabrics like cotton and polyester don't only feel great against the skin after a long day on the water – they stand the test of time trip after trip. Take your pick from graphic fishing tees to ensure you're perfectly outfitted for any catch that comes your way.
Fishing T-Shirts represent extreme comfort for your freshwater and saltwater fishing lifestyle. Our fishing t shirts focus on new fish graphics, and a whole lot more. Fishing enthusiasts will be proud to share their passion for fishing in one of our tee shirts.
Come check us out at http://www.inkupamerica.com and see all different kind of designs. Our T-Shirts make the perfect gift for birthdays, Christmas, father's day, mother's day or just wear them yourself to your favorite place or around the house. We print each and every shirt on demand, and all of our orders are shipped within 24 hours with tracking numbers.
Share article on social media or email:
Source: https://www.prweb.com/releases/inkupamerica_releases_it_s_new_fishing_t_shirts_collection/prweb16268838.htm