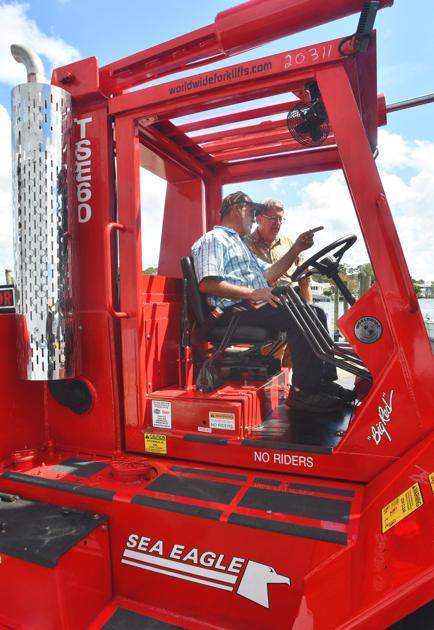 Crystal River's historic Pete's Pier has been getting some needed TLC.
Ever since the 3.62-acre marina at the end of Southwest First Place changed hands in early June, its new owners have been tirelessly upgrading and adding features to keep boaters and travelers coming back to launch vessels or fill up boat slips and high-and-dry storage slots.
'ÄúWe'Äôre investing in this place, and we want the community to invest in us,'ÄĚ said Zonald Spinks, spokesperson for co-owners Boe and Dana Braccio. 'ÄúWe'Äôve had a steady increase each month of people coming here and either doing wet-docking or dry-docking. It'Äôs very positive.'ÄĚ
Improvements to Pete's Pier came quick after the Braccio family corporation, Frye One Pete's Pier LLC, bought the marina and two nearby parcels for $3.2 million from Pete's Pier Inc., which first bought the main property in April 1987 for $125,000.
Along with ramping up renovations, Spinks said the Braccio family will also continue to strengthen ties with the independently owned fishing-charter, manatee-tour and boat-servicing businesses operating out of Pete's Pier.
'ÄúThey'Äôve had a relationship here for years and years and years and we'Äôre just going to continue it,'ÄĚ Spinks said. 'ÄúThey'Äôre separate businesses, but they'Äôre like family to us.'ÄĚ
At the end of June, crews paved over and re-marked the pothole-infested parking lot, giving boat haulers a smoother and easier route around.
'ÄúThere were holes probably 4, 5 feet deep,'ÄĚ Spinks said, adding barricades were also installed in front of some parking spots to keep motorists from accidentally traveling into King'Äôs Bay.
In an effort to curb the Friday, Saturday and Sunday jams of boat trailers waiting in line for the sole boat ramp, Pete's Pier has hired an attendant to streamline waits by directing traffic, coordinating two-boat launches and combining parking and launch fees into one payment.
'ÄúLast week we had a line out to U.S. 19. Average wait time was 10¬†minutes with the attendant, so it makes a big difference,'ÄĚ Spinks said. 'ÄúHe'Äôs going to help you get in, get out 'ÄĒ it'Äôs going to be real quick.'ÄĚ
Capt. Tim Green, who has been running Capt. Tim Green's Family Adventures Charters tours from Pete's Pier for roughly nine years and leased space there for about six, complimented the efficiency.
'ÄúEverything'Äôs so organized. People have been coming here for years and just did what they wanted to,'ÄĚ Green said. 'ÄúThis place was nightmare'ĶThere was no organization, and we have that now.'ÄĚ
Pete's Pier's latest addition, a massive and towering boat forklift, arrived Aug. 31 in three semi trucks from Worldwide Forklifts in Fort Lauderdale.
Weighing in at roughly 50,000 pounds with a price-tag in the six figures, the 'ÄúBig Red'ÄĚ Taylor TSE Sea Eagle 60 can lift 12,500-pound crafts 'ÄĒ including pontoon boats 'ÄĒ that are up to 30 feet long, and place them into the marina'Äôs multi-story dry-storage that can hold 120 boats.
Pete's Pier already had a boat forklift, but it's capabilities of hoisting boats from a nearby dock was arduous and relied on other machinery that could break down, leaving customers without a home for their boats.
'ÄúThis changes the game for us,'ÄĚ Spinks said about Big Red. 'ÄúIt'Äôs more safe, more reliable and it'Äôs consistency for our clients, our customers. If you'Äôve got a boat in the high-and-dry, you'Äôre not going to have a problem getting it out.'ÄĚ
There are also 92 wet docks around the marina for people to store their vessels. 
A main goal for the Braccio family was to fill all their vacancies. Now, they have a waiting list, prompting owners to approve construction of six, 40-foot boat slips.
'ÄúThere won'Äôt be a wait much longer,'ÄĚ Spinks said.
Pete Pier's bait shop at the end of its dock was also cleaned up, rearranged and restocked with bait, gear and other fishing basics.
'ÄúWalls were like half bare, there wasn'Äôt a lot of stock in here,'ÄĚ Spinks said. 'ÄúSo we'Äôve corrected that and added all the products and also added beer and wine, if you need that.'ÄĚ
Tarpon feeding is still on from 2 p.m. to 4 p.m. each day.
'ÄúIt'Äôs free to watch, but if you want to participate, we'Äôve got everything you need to feed the tarpon,'ÄĚ Spinks said.
Bathrooms, which are now on a cleaning schedule, will also get a makeover, along with the marina's wooden boardwalks, without having to have boat owners relocate. Staff also picked up litter throughout the property that filled up 58 5-gallon buckets, Spinks noted.
'ÄúWe'Äôre going to do all the cosmetic things,'ÄĚ Spinks said. 'ÄúWe'Äôre going to make it work with everybody.'ÄĚ
Spinks said as many of these projects were done by area contractors. 
'ÄúWe want to do business with the people who do business with us,'ÄĚ he said.
Arthur Schultes and his business, A&B Custom Performance Marine¬†'ąí which has been repairing and servicing boats at Pete'Äôs Pier for a little over four years¬†'ąí said he'Äôs happy about the recent rise in customer service and enhancements at the marina.¬†
'ÄúThey seem to be making improvements, which were much needed. It'Äôs nice to see,'ÄĚ Schultes said. 'ÄúI consider this place a gem of Crystal River. It'Äôs got quite a bit of potential, and they'Äôre working to bring it up to par.'ÄĚ
Spinks said Pete's Pier is looking at hosting fishing tournaments and boat shows and wants to hear from its neighbors in Crystal River and beyond on what else they'd like to see there.
'ÄúWe want to get very interactive in our property. What can we provide to be better partners moving forward,'ÄĚ Spinks said. 'ÄúIt'Äôs is a centerpiece of the community and we want to continue that and be part of all sides of the community, not just sitting here and doing our thing.'ÄĚ
Source: https://www.chronicleonline.com/news/local/historic-pete-s-pier-gets-upgrades-thanks-to-new-ownership/article_e9ef71f8-b850-11e8-b3a9-0bdbfa8ff328.html