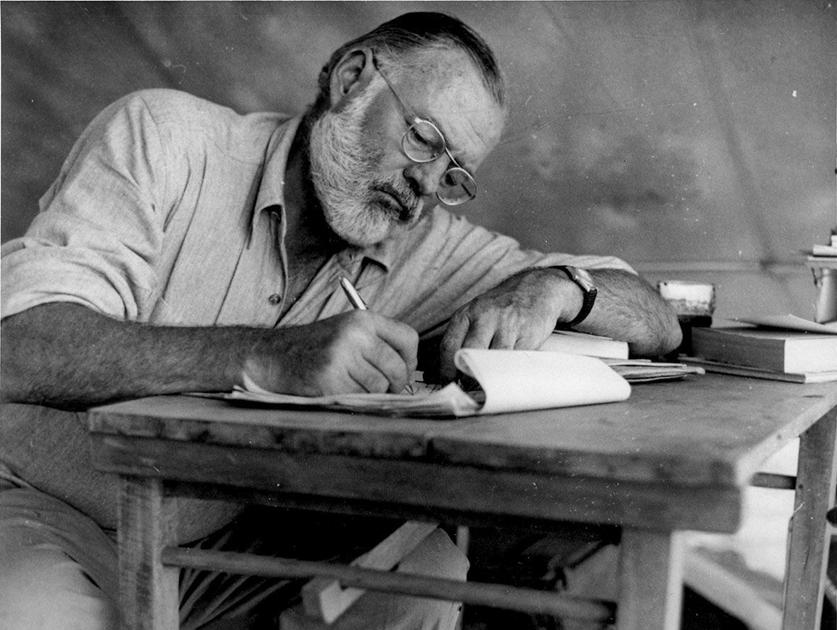 "The native trout were sleek, shining and heavy and nearly all of them leaped when they took the fly." – Ernest Hemingway, "The Clark's Fork Valley."
For a man who led a messy life, Ernest Hemingway had neat penmanship.
As befits someone regarded as perhaps the greatest American writer, his signature does not require squinting or deciphering.
Ground zero for little-known Hemingway episodes in Wyoming can be pinpointed to the Chamberlin Inn in downtown Cody where he spent two nights in October of 1932.
The large book register he signed with his artistic autograph is preserved under glass near the bar. Hemingway gave his address as Key West, Fla.
There is an Ernest Hemingway room in the 1907 inn that manager Bill McPherson said is "our most specifically requested room."
Copies of Hemingway books line a desk and the wall features a framed telling of Hemingway's stay, a picture of the writer, and a letter from a friend explaining his fascination with the area.
It reads in part, "Hemingway loved Wyoming and told friends that the best fishing in the world was at the Clark's Fork Branch (of the Yellowstone River)."
A man's man adventurer who reported from war fronts and left behind a body of novels still taught in schools that talk of love and war and other elements of the human condition, Hemingway traveled, hunted and fished the world.
Nearly 60 years after his suicide in Idaho, the handwritten and type-written words produced by Hemingway closely identify him with Key West, Michigan, Cuba, Africa and Spain. Much less so with Wyoming.
That stopover in Cody was no mere Cowboy State drive-by. For roughly a decade, beginning in 1928, Hemingway was a regular summer visitor, also spilling into Montana.
"It was the only way he could be 100 percent away from people," said Cody fishing guide Tim Wade who helped bring a book called "Prowling Papa's Waters" to the TV screen 25 years ago.
Wade said the day he and a TV host fished Hemingway's area of the river about 80 miles from Cody they caught "the same size trout as he did," fish 8-10 inches long.
They knew because the records were preserved at the L-Bar-T Ranch, Hemingway's main Wyoming haunt. With then-wife Pauline, Hemingway claimed to catch 600 trout that year.
Hemingway won the Pulitzer Prize for fiction and the Nobel Prize for Literature with such famous novels as "The Old Man and The Sea," "The Sun Also Rises" and "A Farewell To Arms." In addition he wrote a bushel of short stories and newspaper and magazine tales.
In the February 1939 Vogue magazine, a Hemingway story appeared titled "The Clark's Fork Valley, Wyoming."
The piece marveled over those trout captured, cold nights and sunny days, talked of cabin-building, spying grizzly bears, hunting sheep, watching local children ride horses, and coping with the chill of winter by imbibing whiskey.
"It's a good country," Hemingway concluded.
But this was Hemingway speaking of Wyoming in the past tense as the golden days faded in the rearview mirror.
Hemingway was born in 1899 in Oak Park, Ill., a suburb of Chicago, and while there is a Hemingway museum there, he was not fond of his roots.
He departed after high school, became a Red Cross ambulance driver in Italy in World War I and never lived in Oak Park again.
His viewpoint of his childhood home was summed up in one biting sentence. He referred it as a community of "broad lawns and narrow minds."
Hemingway lived a swashbuckling, hard-drinking, bare-knuckle, opinionated life – elsewhere. He was not squeamish around blood, whether it flowed from war wounds (his own body or others), bull fighters, boxers, or fish and game.
A 2018 piece by WyoHistory.org of the Wyoming State Historical Society stated, "The Wyoming story of American novelist Ernest Hemingway began when he sought solace, seclusion and beauty near Yellowstone National Park."
That story indicates Hemingway's interest in Wyoming was piqued in Italy when a fellow hospital patient boasted about the trout fishing at a ranch on the South Fork of the Shoshone River.
Hemingway surfaced in Wyoming for the first time in July of 1928 driving a yellow Ford and shifted his base between the Folly Ranch and the Sheridan Inn.
Hemingway was with his second of four wives, Pauline Pfeiffer. When they drove out of state they left through Yellowstone and Casper.
Whether with Hadley Richardson, Pfeiffer, Martha Gellhorn (at least the war correspondent he was) or Mary Welsh, Hemingway was a serial groom, going from one wife to the next almost without a gap. Pictures of him as a young man show him with neat, dark hair and a bold dark mustache, before his beard and hair went white.
Beginning in 1930, for weeks or months at a time sprinkled over the next decade, Hemingway called time-outs from activities such as covering the Spanish Civil War, to repose and write in Wyoming.
Hemingway hunted elk, sheep, black bear and grizzly bear, and fished for brown and rainbow trout.
In 1930, Hemingway, Pauline and son Jack came to Crandall, repairing to the L-Bar-T Ranch, also called the L-T Dude Ranch, near the Montana border. There they developed a friendship with proprietors Lawrence and Olive Nordquist.
Irma Nordquist Patrick was Lawrence's niece and inherited a portion of the property when he and Olive divorced.
Cody's Nic Patrick, 69, grandson of Irma, said, "I heard stories about (Hemingway)" when he was younger. "They actually built a cabin for him."
Patrick was handed down a cowboy hat circa 1930s autographed by numerous Cody notables – and Hemingway. The hat is on loan to the Cody Heritage Museum.
Although he wanted no attention, the local newspaper took some minimal note of Hemingway's presence.
The headline in the Aug. 20, 1930 Cody Enterprise read, "Dude injured at the Majo on Southfork."
Part of the short story read, "Ernest Hemingway was brought to Cody on Tuesday evening to receive surgical attention caused by an accident that afternoon when a horse (a bay named Goofy) bolted with him, carrying him through some heavy brush and tearing his face in such a manner as to require several stitches to patch up the wounds."
Only in the Aug. 27 issue did the paper mention "Noted author is spending vacation in Cody Country." That, too, was a very short item, highlighting Hemingway's connection to the Atlantic Monthly and the New Republic and citing his books written as of 1929.
Compared to Hemingway's other travels so frequently used in writing backdrops, Hemingway's excursions in Wyoming seem under-covered.
In an article titled "A Paris Letter," written for Esquire in February 1934, Hemingway peculiarly veered from the Eiffel Tower to Wyoming and Montana.
He wrote, "This time last year we were driving home from Cooke City, Montana in a blizzard. The big trout had dropped down the river into the deep pools of the canyon. The deer had come down from the high country and had gone down the river to their winter range and the elk had gone into the Park."
Hemingway passed through Cooke City, at the Northeast Entrance to Yellowstone, often enough for current-day entrepreneurs to offer "Hemingway's Yellowstone" breakfast and lunch trips from adjacent Silver Gate. The tours cross the Beartooth Highway and the Chief Joseph Scenic Byway, and pause "at one of Hemingway's favorite watering holes."
Hemingway perhaps spent more time than preferred in Billings, 100 miles from Cody, because of a November 1930 automobile accident.
Hemingway, another famed writer John Dos Passos and a hunter named Floyd Allington were tooling along the road when Papa drove the car into a ditch. He told police some bright lights blinded him. The others said yeah, another car was coming. Dos Passos later admitted despite Prohibition rules in effect, bourbon might have been a factor.
Dos Passos incurred a mild neck injury and Allington dislocated a shoulder Thrust under the car, Hemingway suffered a badly broken right arm. Surgery was performed at St. Vincent's Hospital and during a seven-week Billings recuperation, Hemingway dined at the home of his doctor.
Hemingway's Wyoming-Montana sojourns still percolate in the imaginations of many in the area.
When Montana author Keith McCafferty was a contributing editor at "Field & Stream" along with Jack Hemingway, one of Ernest's sons, they took a bad-weather, hours-long fishing trip together. He asked Jack if Papa would have liked that kind of fishing.
The younger Hemingway said his father "lost the heart" for fly fishing after a steamer trunk with his lures and gear was mislaid or stolen in transit to Idaho in 1940.
McCafferty explained this in a preface to the recent paperback version of "Cold Hearted River," starring his private detective-fishing guide character Sean Stranahan.
Set in Montana, the novel's murder-mystery cornerstone plot revolves around the hunt for the valuable, missing trunk, another refresher linking Hemingway and his outdoor pursuits to this region.
Hemingway logged 92 trout at the L-Bar-T in 1930 and 150 in 1932. He tried to stay disciplined enough to write each morning before fishing each afternoon.
It was said Hemingway wrote the first 200 pages of "Death In The Afternoon," his bullfighting epic, in Wyoming.
The framed account of Hemingway's stay at the Chamberlain Inn in mid-October of 1932, informs visitors the author mailed a package from Cody to his famed editor Maxwell Perkins in New York.
The contents were characterized as a manuscript and 14 letters to be forwarded, as if Cody were a foreign country.
That story says the book was "Death In The Afternoon." However, if so, since "Death In The Afternoon" published in 1932, it had to be a truly hurry-up print job.
The Chamberlin Inn has long promoted a delightfully named "Death In The Afternoon" drink at the bar. The recipe is gin, bitters and half a lime.
Still, it is possible the manuscript shipped by Hemingway was the short-story collection "Winner Take Nothing," released in 1933.
A creative bartender could blend a new alcoholic beverage concoction with that name.
"We'll have to have that discussion," McPherson said.
During his ranch retreats Hemingway listened to radio shows from afar. The news broadcast heard on Sept. 1, 1939, reported the start of World War II. "The Germans have marched into Poland!" Hemingway shouted.
That same year Hemingway and Pauline divorced. He swiftly moved on to his third wife, Martha, and became a war correspondent. A year later that steamer trunk disappeared.
Ernest Hemingway's idyllic summer days of hunting and fishing in the hills near Cody and Cooke City were over.
Source: http://www.codyenterprise.com/news/local/article_4dfe2d20-233f-11e9-ba4a-1fd60eb16a2d.html