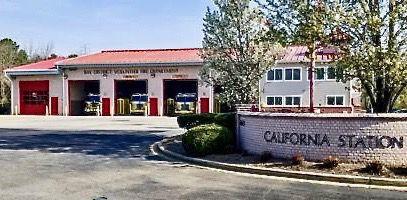 A stellar rating from an outside review of the Bay District Volunteer Fire Department brings pride in the firefighters' performance, and could bring lower insurance premiums for homes and businesses in that area.
The Insurance Services Office's Class 2 public protection classification, going into effect in March, puts Bay District in the top 2 percent in Maryland, according to the fire department's release, as only four other communities in the state have that rating.
"It's a very thorough look at how our department is run," Robert Wahrenbrock, the fire department's chief, said. "It's how we do business is what has gotten us to that level."
In addition to the area's fire department, the evaluation also included findings about the water utilities and emergency communications in that area of St. Mary's County, including Lexington Park, Great Mills and California.
"It looks good on the county," the fire chief said, and "it looks good on us."
The benefits of the high score come in part from the grading schedule's important role, the fire department's release states, in the underwriting process of insurance companies, and what they charge their customers for coverage.
"It helps reduce the cost of the person's insurance," the chief said, particularly for the businesses within the area of Bay District's two stations in Lexington Park and California.
Leonardtown gets ready for 2019's first First Friday
Monthly First Friday activities resume from 5 to 8 p.m. today in and around the square in Leonardtown, offering a fun evening out on the town with family and friends, a workout at one of the local fitness studios, and even an opportunity to learn a new skill at a workshop.
One-evening-only specials will be available at participating shops and restaurants, and there will be opening receptions at the local art galleries.
There will be no drum circle tonight, but that event will return in February.
Check the Leonardtown First Fridays Facebook page for details about specific events in downtown, and beyond.
Book highlights local meat marketers
The Southern Maryland Agricultural Development Commission recently announced the release of Taking Stock, a quality bound coffee table book that features photographic portraits and conversational insights on the farming families associated with the commission's Maryland Meats marketing program.
"As the title of the book suggests, 'taking stock' can have many meanings," the commission's release states, as "in the literal sense of 'being aware' as a person, or in 'making an inventory' as a business, and as a 'shepherd and steward' of livestock and the land."
The book is authored by Craig Sewell, Southern Maryland Meats' new livestock and marketing specialist, who set himself an ambitious schedule to "take stock" of the 52 livestock producers in the program by personally visiting every farm. During his visits, Sewell was invited to "sit a spell" and listen to their stories.
"Something extraordinary happened when they spoke and revealed their hopes and hardships," Sewell said in the release, noting that from that point forward, he was inspired to capture each conversation and share his experiences.
The Southern Maryland Meats program was created in 2011 to promote and raise awareness for Southern Maryland's farm-raised meats. The "Southern Maryland Meats" logo and standards were co-created by the commission and regional livestock producers to assure transparency and product authenticity in the market place, so that consumers know exactly how their meat is raised and where to buy it. Participating farms' raising practices are verified to maintain the integrity of the SMM brand.
Sewell noted through the release that "We are especially pleased that from cover to cover, Taking Stock is an all-local project. The livestock producers, our designer Jamie Tiralla of All Ag Media, and the book's printers, Linemark Inc., are all located right here in Southern Maryland."
The book's 152 pages are illustrated with vibrant full color photo-biographies, by accomplished agriculture photographer Lena McBean, of Remsberg Inc.
Shelby Hampton-Watson, the commission's director, described the publication of the photo-documentary coffee table book in the release as "an exciting new project" for the commission, and that "we recognized the dynamic potential of this book to re-energize and invigorate our livestock project, and also as a unique way to introduce the general public to the remarkable farms and families that provide us with our food."
In addition, the commission will continue accepting proposals for one more week, until Jan. 11, for two programmatic website development projects that include website re-design, and ongoing maintenance, database management and associated printed promotional pieces.
Corporate design continuity, delivering a consistent image, is a priority across the commission's communication platforms. The designated projects include its Maryland FarmLINK program website, which is designed to help farmers locate farmland for lease and purchase, exchange ag-related information, find mentors and business partners, and locate equipment for rent, workshops and educational opportunities occurring throughout the state.
Another website, the Southern Maryland Oyster Trail, seeks to raise consumer awareness for the regional oyster industry including aquaculture and wild harvest producers, and to increase economic potential for producers and oyster-related retail shops, heritage sites and organizations connected with oyster production.
Prospective bidders may submit proposals for one or both projects, and the contracts' period will be for one year, commencing Feb. 1. The agreements may be extended at the request of both parties annually, for up to three years.
Proposals must be submitted electronically by 4 p.m. on Jan. 11, to Cia Morey at cmorey@smadc.com. Samples also may be submitted to the commission's office at 15045 Burnt Store Road, P.O. Box 745, Hughesville, MD 20637, either hand carried or received in the mail by the same deadline.
Church to hold sweetheart dinner on Saturday, Feb. 16
The annual Sweetheart Dinner at Mt. Zion United Methodist Church will be held on Saturday, Feb. 16, featuring prime rib, turkey tenderloin and a tribute to the king of rock 'n' roll.
Doors will open at 6 p.m., one hour before the dinner at the church located at 27108 Mt. Zion Church Road in Mechanicsville, to be followed by the entertainment presented by Jim Godbold, "The Rockin' Elvis" from Calvert County.
Also on the menu will be garlic red roasted potatoes, maple glazed carrots, parmesan crusted creamed spinach, dinner rolls, butter, coffee, tea, lemonade and dessert.
Reservations are required, and can be made until Feb. 10 by calling Tom Keller at 301-481-6388.
Earlier next month, an indoor yard sale benefitting a scholarship fund at the church's preschool will be held from 7 a.m. to noon on Feb. 2. Tables are available for rent, by calling Rebecca Fitzgerald at 301-884-5455 or sending email to mtzpreschool@gmail.com.
Stamp design entries due March 8
Migratory game bird stamp artists are invited to submit their original works, through March 8, for the 23rd annual Maryland Black Bear Conservation Stamp and 45th annual Maryland Migratory Game Bird Stamp design contests.
The Maryland Department of Natural Resources will judge the entries on March 16, in conjunction with the annual Eagle Festival at Blackwater National Wildlife Refuge in Cambridge.
The Black Bear Conservation Stamp contest is open to both state residents and nonresidents. Each contestant may submit one entry for a nonrefundable $10 fee. Proceeds are used to compensate farmers who experience agricultural damage caused by black bears.
The Migratory Game Bird Stamp contest also is open, as of this year, to both state residents and nonresidents. Each contestant may submit up to three entries with a fee structure of $15 for one, $20 for two and $30 for three. Proceeds help fund game bird and waterfowl research and projects.
All entries must be original works, neither copied nor duplicated from any previously published paintings, drawings, prints or photographs. To enter, contestants must mail their designs with required fees, to be received by the deadline, to Maryland Black Bear Conservation Stamp Design Contest or The Maryland Migratory Game Bird Stamp Design Contest, c/o Christopher Markin, Maryland Department of Natural Resources, Wildlife & Heritage Service, 828 Airpax Road, Suite 500, Cambridge, MD 21613.
Fishing and boating expo to be held in March at fairgrounds
The Southern Maryland Fishing Fair and Boat Safety Exposition will be held from 8 a.m. to 3 p.m. on March 23 and 24 at the St. Mary's County Fairgrounds, located off Route 5 south of Leonardtown.
The fishing fair will include vendors selling fishing rods, fishing tackle, fishing trips, artwork and food to fishing enthusiasts. Speakers will address saltwater and freshwater fishing opportunities in Southern Maryland, as well as fishing camps for children age 7 to 14.
The Boat Safety Exposition will include boat safety preparation, training and demonstrations for boaters presented by federal, state and local organizations.
The event is sponsored by the Southern Maryland Recreational Fishing Organization Inc.
Source: https://www.somdnews.com/enterprise/community/columns/fire-department-s-high-rating-eyed-as-lowering-property-owner/article_cb1bca9c-aecd-5fed-bd19-d5c254a579ce.html