Baudette – Lake of the Woods & the Rainy River
The walleye season opens Saturday, May 11 on Lake of the Woods. The walleye and sauger populations are reported to be strong so anglers should expect a good opener. Use a jig and frozen shiner for the most fish. The northern pike and sturgeon seasons are open and reports are excellent with numerous trophy class pike being reported. Please note that all northern pike measuring 30 to 40 inches must be returned to the lake. There is a 3 pike limit with one over 40 inches allowed. The sturgeon are catch-and-release only through May 15.
On the Rainy River, anglers reports great sturgeon and northern pike fishing. For sturgeon, use a 4 to 6 ounce no-roll sinker, a sturgeon rig and a few nightcrawlers or a combination of crawlers and frozen emerald shiners. Most northern pike are coming from the shallow bays. Anglers expect a good walleye bite this weekend. For the most fish, use heavy jigs when jigging due to stronger than normal water current.
Up at the Northwest Angle and Islands area, some ice chunks continued to float around earlier in the week. For the most action this weekend, use a jig and minnow adjacent the shoreline structure, points and neck-down areas. 800-382-FISH; www.lakeofthewoodsmn.com
Bena – Lake Winnibigoshish
Lake Winnibigoshish has been ice free for more than a week, and expectations are high that there will be plenty of walleye in the shallows this weekend! Learn about recommended fishing techniques on Lake Winnibigoshish for this weekend's fishing opener. www.lakewinnie.net
Walker – Leech Lake
Leech Lake should be in great shape for this weekend's fishing opener. Water temperatures are expected to range from the upper 40s to the low 50s in some areas so fish should still be near their spawning grounds. The males will make up a lot of the biters. For the most action, hit areas in 4 to 8 feet of water with sand, gravel or sand/weed edges, especially if they are windblown. Head a bit shallower on windy days, and a bit deeper on calm days. If you notice schools of shiners, expect walleye nearby. This is the time of year to pay close attention to water temperatures, bait and wind rather than your sonar. Let your eyes tell you where to fish. Consider hot spots such as Pine, Duck, Hardwoods, Ottertail, Stony, and other major points on the east side of the lake.
It will be hard to beat a 1/8 ounce jig tipped with a shiner or rainbow minnow. Other presentations that may produce good numbers of fish are lindy rigs with minnows, and trolled crankbaits early and late in the day.
Please remember that there are new regulations on Leech Lake this year. Anglers may still keep 4 fish, but only one can be over 20 inches long. Please be courteous to your fellow anglers, and consider helping others with loading and unloading at the accesses. 800-833-1118; www.leech-lake.com
Pine River Area Lakes
All lakes and streams are ice free but recent cool and rainy weather has left most lakes with cooler than normal water temperatures. Expect most walleye and northern pike to be near their spawning areas. For walleye, check waters as shallow as 2 feet deep during lowlight hours, moving to 15 to 20 foot depths during the day. Cold water means "go small" when it comes to presentations. A jig and minnow combination, or just a plain minnow, nightcrawler or leech on a slip sinker rig is recommended. Less is more when it comes to fishing colder waters. Those trolling the shallows will want to keep their lures a long way behind their boats. Crappie and sunfish action is finally beginning to pick up in the shallow bays that warm the fastest. For crappies, use a 1/16 ounce jig with a small crappie minnow fished a foot or two below the bobber. Seek out the dark-bottomed, shallow bays and you will almost certainly find panfish. Please wear your life jackets, especially when waters are this cold. 800-728-6926; www.pinerivermn.com
Brainerd Area Lakes
Expect walleye to be in very shallow waters on the opener. Anglers will need to keep noise to a minimum to not spook the fish. For the most success, use live bait, troll jerk baits or cast plastics around the fresh weed growth. Don't be afraid to fish expansive flats with a little weed growth to pick up fish as well. Erratic weather has crappie schools on the move. Plastics and minnows are working equally well, but the fish are easily spooked so longer casts beyond the school has been key. Bluegills remain in the warmest waters with fresh weed growth. 800-450-7247; www.visitbrainerd.com
Isle/Onamia – Lake Mille Lacs
Ice out on Lake Mille Lacs was declared April 28. The walleye are hungry, with accidental walleye coming in on small plastic crappie baits. The docks are in and the resorts are ready for the opener this weekend! Check out the Lake Mille Lacs webcams for great views of the lake.
Anglers fishing Mille Lacs may keep one walleye from May 11 through May 31, but the walleye must measure between 21 and 23 inches, or be more than 28 inches long. 888-350-2692; www.millelacs.com
Willmar Area Lakes
The fishing opener for the 2019/2020 fishing season is May 11 for walleye, northern pike and bass. When looking for walleye this weekend, stick to the shallower lakes such as Calhoun, East Solomon, Elizabeth, Lillian, Norway, Ringo, Willmar and Foot. Anglers are finding active crappies in the Nest Lake bays, and on Andrew and Florida lakes. Sunfish and crappies are being pulled from Foot Lake near the culvert. The main lake water temperatures remain extremely cold so anglers need to use caution and wear a life jacket. 800-845-8747; www.willmarlakesarea.com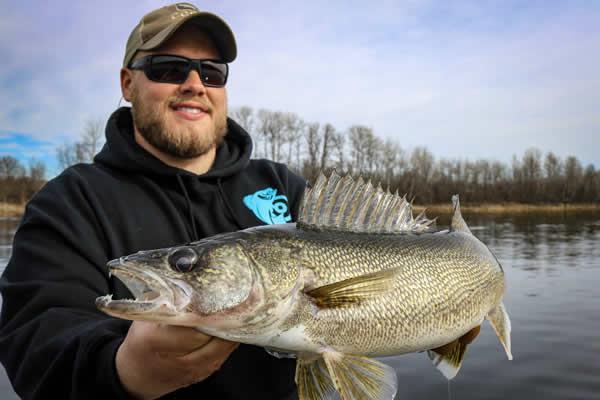 Source: https://kfgo.com/blogs/goneoutdoors/978/explore-minnesota-weekly-fishing-update/