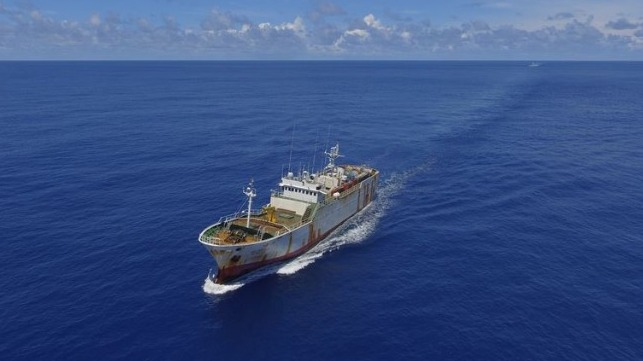 On April 6, an Indonesian Navy ship intercepted the F/V STS-50, a stateless toothfish fishing vessel that escaped custody from Maputo Bay, Mozambique, on March 17. The arrest marks the end of a three-week-long trans-Indian Ocean chase involving the coordinated efforts of Interpol's Project Scale, Fish-i Africa, the Fusion Centers in Madagascar and Singapore, Sea Shepherd, the United Republic of Tanzania and the Republic of Indonesia.
The F/V STS-50, a known Patagonian and Antarctic toothfish fishing vessel, was detained in the Republic of Mozambique for presenting authorities with forged certificates of registration that claimed she was flagged to the Republic of Togo. Inspectors discovered 600 gillnets on board capable of stretching up to 18 miles; fishing gear prohibited by the Commission for the Conservation of Antarctic Living Marine Resources (CCAMLR).
Both black-listed by CCAMLR in 2016 and subject to an INTERPOL Purple Notice for illegal, unreported and unregulated (IUU) fishing, the F/V STS-50 is better known by its previous names Ayda, Sea Breez 1 and Andrey Dolgov.
The F/V STS-50 had previously been detained by China, but escaped and was caught in the port of Maputo in Mozambique. After escaping detention again, Mozambique requested assistance from all Fish-i Africa Member Countries for help in apprehending the fugitive vessel. Fish-i Africa is a partnership of eight East African countries – including Comoros, Kenya, Madagascar, Mauritius, Mozambique, Seychelles and Somalia – that fosters information-sharing and regional cooperation to combat IUU fishing.
The Sea Shepherd vessel M/Y Ocean Warrior, currently in Tanzania patrolling against IUU fishing with law enforcement agents on board from the Deep Sea Fishing Authority, Tanzanian Navy and the Multi-Agency Task Team (MATT), was tasked to intercept the F/V STS-50.
For several days, the F/V STS-50 was pursued through the waters of the Seychelles, where unfortunately the Tanzanian Navy did not have the authority to board and inspect the fugitive vessel. However, photos and other evidence gathered during the chase were passed on to Indonesian authorities, adding to the intelligence that allowed them to successfully intercept and arrest the vessel. At the time of its recapture, the F/V STS-50 had 20 Indonesian and Russian crew on board.
From 2014-2016 Sea Shepherd led Operation Icefish, a campaign to shutdown the Bandit Six, the last six illegal toothfish vessel operators fishing in the Antarctic. This culminated in an 110-day chase of the F/V Thunder by the Sea Shepherd ships M/Y Bob Barker and M/Y Sam Simon. The F/V Thunder was subsequently sunk by its captain in a bid to destroy evidence. Another of the Bandit Six, the F/V Viking, was intercepted and sunk by the Indonesian Navy. Government action ended operations for the remainder of the Bandit Six, but in their wake the F/V STS-50 is believed to have commenced poaching operations in the Southern Ocean.
Under the leadership of the Honorable Susi Pudjiastuti, Minister, Indonesian authorities have seized and destroyed 363 illegal fishing vessels. 
Source: https://www.maritime-executive.com/article/escaped-fishing-vessel-recaptured-in-indonesia