By David Green | 2 May 2019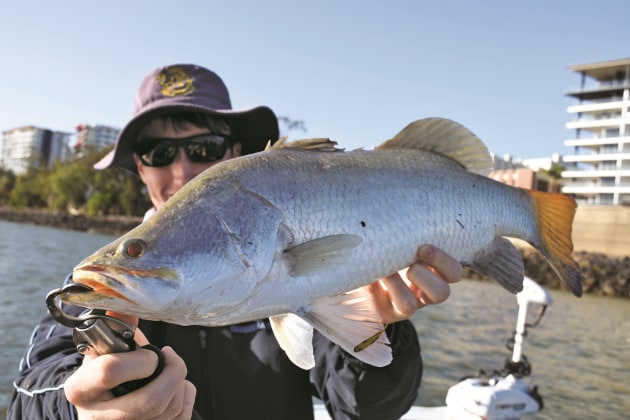 ROCKHAMPTON, near the coast in central Queensland, is well known as a major cattle centre. In recent years, since the closure of commercial netting in the Fitzroy River system, it has become a bit of a focal point for anglers interested in chasing barramundi and threadfin salmon.
From reports I had received on the anglers' grapevine it was well worth visiting. In early October I had a window of a few days that coincided with neap tides and I was keen to explore fishing the Fitzroy River. I much prefer to go on exploratory trips using my own boat, and while there are some excellent guiding operations working this area, I prefer to work out a new place off my own bat. The trip we had was quite successful and a bit bizarre. I'm quite used to travelling long distances to find fish and in general we work hard, find a few patches of fish and consolidate our knowledge. The Fitzroy River, with the nearby Port Alma, is quite a big system with thousands of likely places to catch a barra or threadfin salmon. The strangest aspect of our trip was that the best fishing was right in the middle of town. A young kid caught a 120 cm barra right under the Bruce Highway Bridge during our visit on a vertically jigged soft vibe.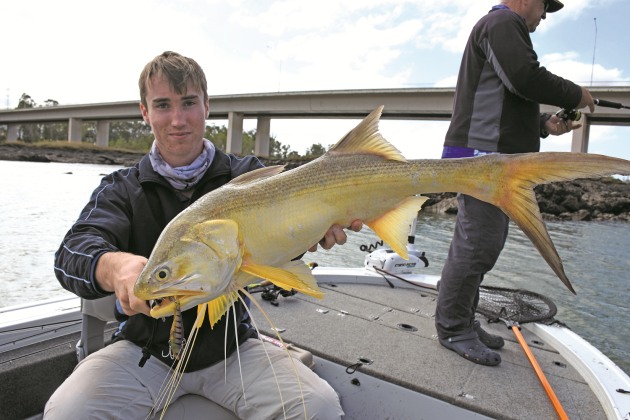 The local council has made a serious investment in promoting and supporting recreational anglers in the Rockhampton region. The boat ramp and launching facilities are first class and with an increasing population of fish since the netting closures were put in place, Rocky is attracting anglers from far and wide. The following is an overview of our first trip to Rockhampton. I don't want to promote ourselves as some kind of barra fishing gurus, we fished fairly standard methods during daylight hours with very little local knowledge. Anyone with a small tinny and a bit of nouse should be able to catch good fish in the Fitzroy right in the middle of Rocky.
There are a few important points if you are planning to target barramundi. The first is that barramundi in coastal rivers of Queensland have a closed season from the first of November until the first of February. While you can still catch plenty of good threadfin during this period, all barra must be released and not deliberately targeted during this period as it is the spawning season. The second point is that the area generally fishes much better on neap tides. The Fitzroy has a big tidal variation and the bigger tides can greatly affect the water quality. A third factor one needs to be aware of is that the Fitzroy holds a quite healthy population of quite big saltwater crocodiles and quite a few show up in the town stretch of the river. The crocodiles have also increased in numbers since the netting closures. I personally wouldn't fish this place out of a kayak, but some keen risk takers do. As a final point, having a good echo sounder with side imaging was a really big help for us as a fish finding tool on this river, making it easy to locate schools of threadfin and barra. The town reach of the river, particularly upstream of the highway bridge, has dozens of rock bars and requires very careful navigation.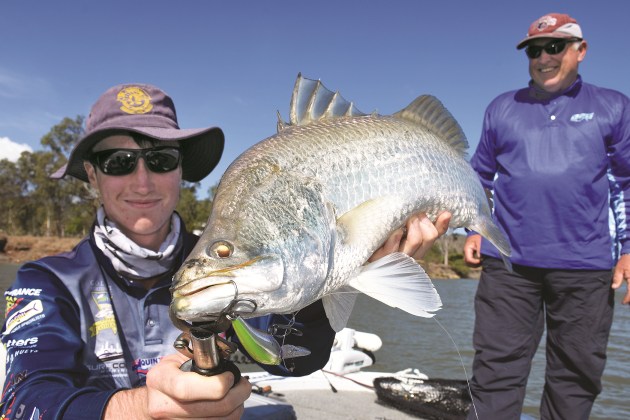 We stayed in a cabin in a caravan park on the south side of the river, and fished the river for three days. I was fishing with Mark Frendin and his son Connor. On our first morning we launched at an excellent ramp on the south side of the river. There is a section of river about 2 km long full of moored boats running nearly all the way up to the highway bridge. I immediately began marking quite good numbers of big fish close to the bottom near the boats. The long streaky lines looked like threadfin salmon. We started of jigging soft vibes close to the bottom but after about half an hour we moved on after we missed a couple of bites. I then moved upstream to the area between the two bridges. This was right in the middle of town and just seemed wrong! There were some seriously scary rock bars in this section and a lot of water movement, back eddies and current funnels. If I was in a remote NT river I'd say that this looked a magical spot, but the traffic of Queensland's biggest highway and the façade of Rockhampton's highest buildings kind of changed the ambience of the place. However, fish don't care about buildings or highways, and after a few minutes the Zerek Fish Trap I was using was slammed by a nice silver barra about 60 cm long. It was nice to put a fish in the boat after a quite long drive the day before, and this greatly improved our confidence levels. The depth in this area varied greatly, with 15 m of water only a few metres from the rocky edges. In the deeper holes there were plenty of fish stacked up just off the bottom. After catching three fork tailed catfish in a row I was feeling a bit dejected when I hooked up to a much bigger fish. This fish fought deep and hard and I was pleasantly surprised when my first Fitzroy threadfin came to the net, a nice fish around 90 cm long. I love eating threadfin and that one went into the esky. There were a lot of boats fishing this area and the tactics varied. There were blokes with big hats slowly trolling the area towing buckets to slow them down, fast bass boats zooming from spot to spot and a lot of boats drifting through the channels fishing with bait. The most common method I saw was casting small to medium sized soft vibes and hopping them across the bottom. Mark caught another threadfin but for the number of fish showing on the sounder the bite at that time was slow. I think those fish see plenty of soft vibes!
We moved downstream as the tide filled. We worked quite a few spots for no return but as the tide slowed we found another big rock bar on the corner of the river about 4 km downstream from the boat ramp. I've always found that deep rock bars in rivers tend to fish best on tide changes as the fish move away from cover and generally feed quite actively for the short period of the last run in tide. As this particular rock bar was long and deep I decided to troll the area for two reasons. Firstly, it is generally effective, and secondly I needed to GPS the rocks themselves to set up my best trolling run so the lures would run constantly through productive water. This can take a few trolling runs to get right. The depth was between 5 and 6 m over the rocks, and on our first run we got smacked a couple of times but failed to hook-up. Using Killalure Flatz Rats we had our lures hitting rock the whole length of the troll and over the next half hour Connor and Mark caught two nice barra around 64 cm in length, and we had another four bites. I was pretty confident this pattern would repeat itself the next afternoon. The fish were beautiful chrome saltwater barramundi and fought hard. Connor was very excited with his first barra, a well earnt fish after spending many fruitless hours fishing in Lake Monduran and Callide Dams. At the end of the first day we had three barra and two threadies, not a ground breaking catch but not too bad considering we fished a populated river right in the middle of town.
The next morning we set off for a long run downstream, looking for a tributary with a rock wall with a distinct break in it. We'd been recommended this spot by a few mates. After about a 40 minute run we found the spot, and downstream the river opens up into a series of sand and mud bars winding its way through coastal floodplain. Unfortunately, the wind was quite strong and the water was dirty, just a tad too dirty for good barra fishing. I saw quite a few fast boats rushing from spot to spot. The famous competition, the "Barra Bounty", was only a few weeks away, and there was a lot of "pre fishing" going on. We worked our way back casting at creek mouths, snags and trees but we never got a single hit. By this stage we were a bit frustrated so we headed back to the town stretch for the afternoon. As we moved back upstream the water cleared and looked a lot more inviting. We did see a pretty reasonable sized crocodile sunning itself on a mud bank on the trip upstream.
A kilometre or so upstream from the second bridge is the barrage, a dam like structure that effectively divides the Fitzroy between the fresh and salt water. There is some pretty good fishing upstream of the barrage for barra and saratoga, and below the barrage is an interesting section with more rock bars and holes. No fishing is permitted in the few hundred metres just below the barrage. We had a fairly large body of water to work with plenty of rocky structure, so we began a slow troll to work out the contours and find where the fish were holding. By this stage we were a bit perplexed as we hadn't put a fish in the boat all day. We had left fish to find fish, breaking one of the golden rules, but it was an exploratory trip. After carefully tracking the bottom on the side imaging I found a nice contour line and started marking a few fish and Connor's lure got belted by a good barra that took to the air and fought extremely well. That 80 cm fish was in quite open water and after being played out was soon in the boat and that certainly changed our moods. We worked the area for another hour and missed a few bites, then headed back downstream to fish the change of tide on the rock bar we had found the previous afternoon. This produced another two nice fish around 65 cm long when the water slowed, and quite a few missed bites.
On our third day we concentrated our efforts on the town stretch of the river. This produced 10 nice fish caught on soft vibes and by trolling. We were told about a green marker buoy just downstream of the main bridge that was a good spot for threadfin salmon, and within a few minutes of arrival had a double hook-up on a nice 70 cm barra and a big threadfin salmon on vertically jigged Zerek Fishtraps. Another highlight of the final day was Connor's 90 cm barra caught trolling along the same ridge line that produced his 80 cm fish the day before. This was a big solid beautiful looking fish that fell to as large Tango Shad in about five metres of water.
I was quite happy with our results from our initial trip, and will definitely be going back to Rocky again. This is a thriving fishery and it was very clear that the improved fishing since the netting closures has increased fishing tourism in the region. We didn't do anything ground breaking and fished using fairly orthodox methods and we caught plenty of quality fish. I met John Haenke on the last day who was guiding Steve and Jo Starling. John runs Guided Fishing Down Under and operates in the Rockhampton region. He's a very good operator if you want a guide to show you this great place. The hardest part to get used to is that the best fishing is often right in the middle of town!
Source: http://www.fishingworld.com.au/news/destination-rockhampton-qld