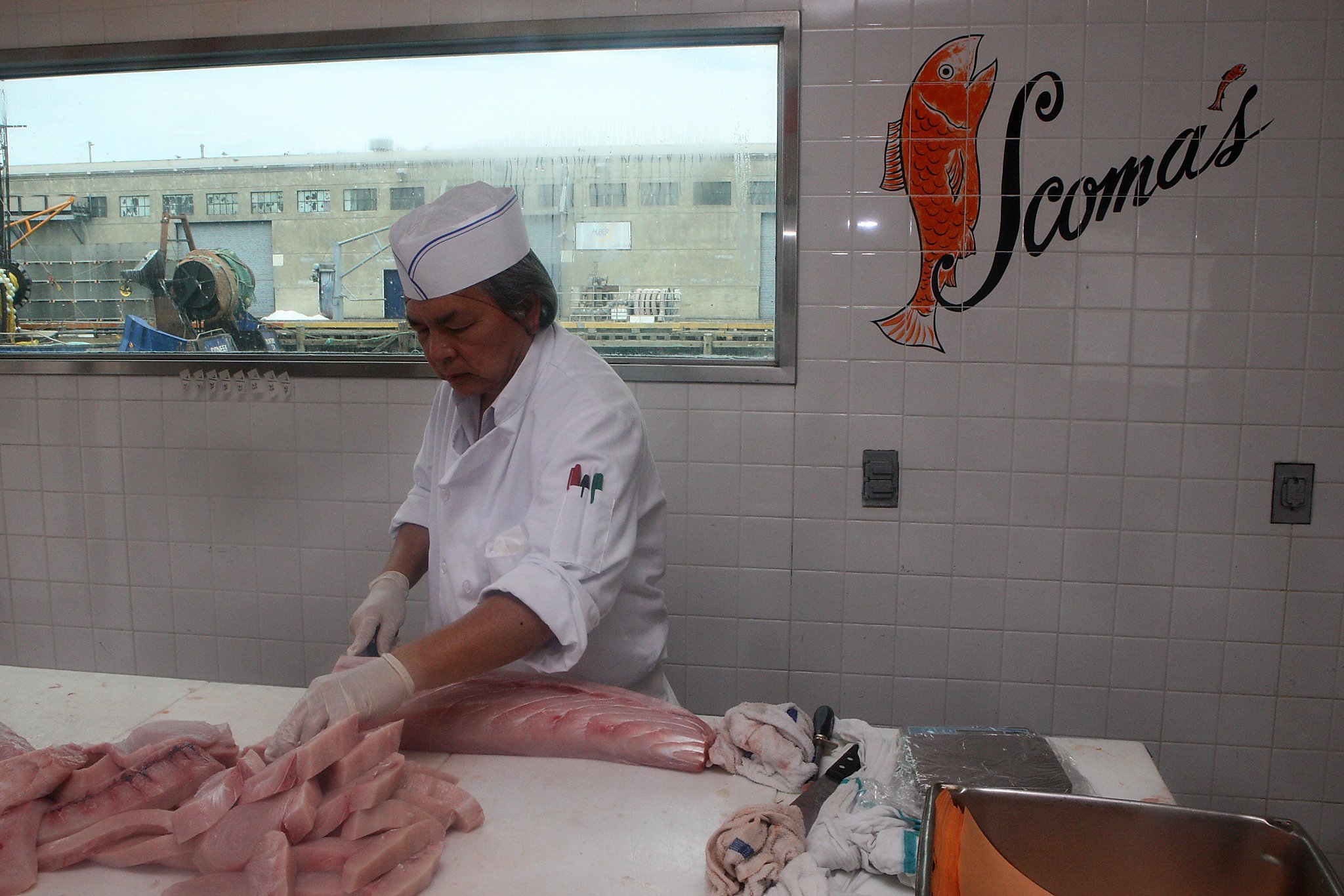 Fishing gear that is responsible for the unintentional deaths of dozens of marine mammals every year will be phased out under a new bill passed by the state Legislature Thursday.
Called drift gillnets, the often mile-long nets used to catch swordfish also traps and kills many other species, including dolphins, seals and the occasional endangered sperm whale and leatherback sea turtle.
"Anything that comes in its way, it's going to (catch) in its net," said Paul Shively, project director of Pacific Ocean conservation at Pew Charitable Trusts, which has been working to ban the nets for five years. "It's not only inhumane, it's just not a good way to manage our U.S. resources."
Drift gillnets are large nylon nets attached to buoys and weights that fishing boats pull behind them. They have a wide enough mesh to allow juvenile fish to escape and come with acoustic pingers meant to scare away dolphins and whales, but are not always successful.
Under SB-1017, which was authored by State Sen. Ben Allen (D-Redondo Beach) and now awaits the governor's signature, drift gillnet fishermen would be compensated $100,000 for relinquishing their gear and $10,000 for turning in their permits. The legislation recommends an alternative, called deep-set buoy gear, that targets swordfish but significantly reduces the bycatch.
In 2016, Pew commissioned a poll that showed 86 percent of Californians would support a ban on drift gillnets. The United Nations banned the use of large drift gillnets in 1991, and in April, Sen. Dianne Feinstein, D-Calif., introduced federal legislation to phase out the gear by 2020.
California is the only state that still issues permits for the gear. There are 20 active permit holders centered around Southern California.
The state brings in around $4 million in swordfish each year, the majority caught by long-line boats in international waters. Between 15 and 30 percent of the catch came from drift gillnet fishing boats in recent years.
The issue became inflammatory in April when an undercover video showing a fishermen cutting a shark out of his drift gillnet went viral. Afterward, several fishermen, including Gary Burke of Santa Barbara, received anonymous death threats, and a fishing boat that appeared in the video mysteriously sank.
Burke and other drift gillnet fishermen argue that they stay within strict bycatch limits agreed on by the Pacific Fishery Advisory Council, the agency that oversees their fishery. They're also concerned that the deep-set buoy gear recommended in SB1017 won't be as economically viable and has already resulted in catching one sea turtle by a California fisherman trying it out.
Burke called the bill yet another example of the state restricting its seafood industry to the point where there will be little fresh fish left in the local market, only frozen imports from countries with lower environmental standards than the United States.
"The sad, sad part of this whole deal is California is going to lose a good fishery," said Burke, an adviser on the advisory council who has been a swordfish fisherman his whole career.
Burke points to recommendations from the Monterey Bay Aquarium Seafood Watch program, which gives the California drift gillnet a yellow or "good alternative" rating, saying that while bycatch is a serious concern, the swordfish population is itself healthy and there's no impact on seafloor habitat. The National Oceanic and Atmospheric Administration calls the North Pacific swordfish "a smart seafood choice because it is sustainably managed and responsibly harvested under U.S. regulations."
Pew counters that half of what the drift gillnets bring up is bycatch, one-third of which is dead because the gear is left in the water overnight. (A large portion of the bycatch are finfish species that fishermen can sell in addition to the swordfish.)
Bycatch is tracked by observers who go out with swordfish boats 20 percent of the time. From the 2010 to 2017 fishing seasons, observed bycatch included one leatherback sea turtle, two endangered sperm whales, as well as many different types of dolphins, seals, elephant seals. On average, they observed the entrapment of about 13 marine mammals per year, almost all dead, or 66 marine mammals annually if extrapolated to 100 percent.
Over the past several years, some California fishermen have been trying out the deep-set buoy gear, which Pew and others propose they adopt. Unlike the drift gillnet, deep-set buoy gear uses hooks. They can go as far as 1,200 feet below the ocean's surface to specifically target swordfish, is used during the day and has indicators when something is caught.
When a leatherback sea turtle was caught by a fisherman recently using the new gear, he was able to release it immediately and the turtle was seen swimming away by the on-boat observer, Shively said. The gear awaits final approval by the Pacific Fishery Management Council.
Tara Duggan is a San Francisco Chronicle staff writer. Email: tduggan@sfchronicle.com Twitter: @taraduggan
Source: https://www.sfchronicle.com/green/article/California-Legislature-sends-bill-to-reduce-13195317.php