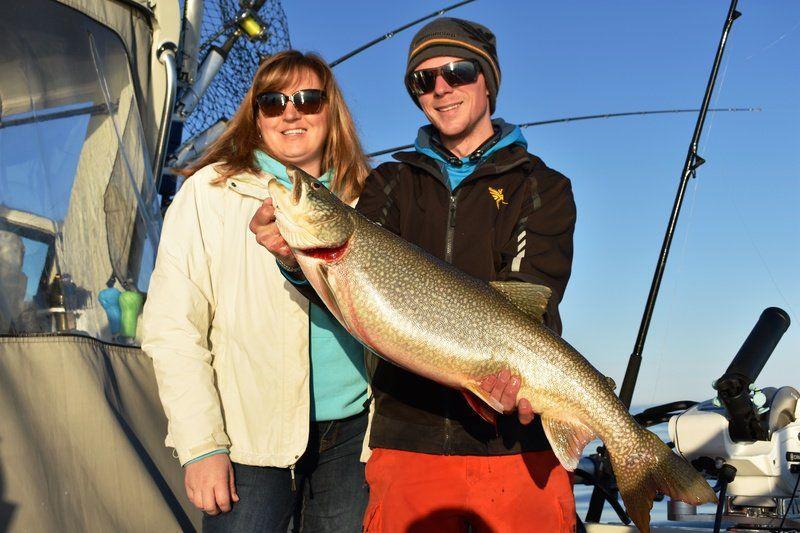 SOUTH HAVEN 'ÄĒ Lake trout are well down the list of preferred species for Lake Michigan trout and salmon anglers. Admittedly, they are not as spectacular as the others; they don'Äôt come out of the water like coho or steelhead, and they rarely threaten to spool you like big chinooks.
But lakers have several positive attributes that make them a worthy quarry. For one thing, they belong here; lake trout are the original cold-water apex predators in the Great Lakes. For another, they're survivors; that they still exist in the Great Lakes after long years of commercial fishing and the invasion of sea lamprey is worthy of a tip of the cap.
Still, from an anglers' standpoint, the lake trout's most positive attribute is its dependability. Compared to the other species, they are the easiest to find and catch all season.
Veteran charter boat skipper Dave Engel is one to sing the lake trout's praises. When the salmon are hard to come by, he'll target them in a heartbeat.
'ÄúWhen guys get on board they talk about wanting kings, even when they'Äôre not around, but after a few hours of trolling with no fish you hear them asking, 'ÄėSo where were you getting all those lake trout?'Äô 'ÄĚ Engel said.
I was out with Engel aboard his 38-foot Tiara the other day with a family of four who just wanted to catch fish. Lakers suited them perfectly.
Engel began setting lines in 65 feet of water 'ÄĒ a little shallow to my way of thinking, but we'Äôll get back to that point in a minute 'ÄĒ and by the time we hit 70 feet we had three fish on ice. It continued that way for a while 'ÄĒ within an hour we had several more 'ÄĒ but Engel said it was slow compared to the way it had been.
'ÄúThe last two days we had 24 and were done by 10:30,'ÄĚ he said.
Engel said the fish were concentrated on shallow reefs and were feeding on gobies (which is another reason to like lakers).
'ÄúWhen they'Äôre eating gobies, 65 feet is not shallow,'ÄĚ said Engel, a skipper for more than 40 years. They come in in spring. The structure here and around Saugatuck holds lots of gobies and we have tremendous fishing in 40 to 85 feet of water. They feed on gobies early in the year and when the alewives show up, the water gets too warm for the trout, and they'Äôll head out to deeper water.
'ÄúWhen you'Äôre fishing around alewives, you catch them suspended in the water column. But when you'Äôre fishing around gobies, you'Äôve got to be ticking the bottom.'ÄĚ
We fished the whole array of rigs 'ÄĒ downriggers, wire divers, and copper lines on planer boards, with the bulk of the fish coming on the deep divers and 'Äėriggers. For the most part, Engel was dragging Spin-N-Glos (instead of flies) behind rotators, which were banging the bottom.
'ÄúSpin-N-Glos let you do that without hooking zebra mussels,'ÄĚ Engel said.
The fishing slowed and the planer board rods 'ÄĒ which were dragging spoons or dodgers and flies up in the water column 'ÄĒ started producing better than the bottom-pounding rigs.
'ÄúThey'Äôve started to move out of here,'ÄĚ Engel said. (Sure enough, when Engel cleaned the fish, we found a lot of alewives in several of them. Early in the day, they were all spitting up gobies as we hauled them aboard.)
'ÄúThe kings will be here in a couple of days,'ÄĚ Engel said. 'ÄúIt'Äôs time to start heading out deeper.'ÄĚ
We fished for a few more hours and wound up putting 16 lakers on ice. Pretty good fishing.
'ÄúIt appears to be a pretty healthy lake trout population,'ÄĚ Engel said. 'ÄúWe can catch them most of the summer. They'Äôre becoming our go-to fish.'ÄĚ
The lake trout population in the southern end of the lake seems to be doing fine after decades of insufficient natural reproduction. We can thank the gobies for part of that; alewives contain thiaminase, a compound that splits thiamine, which is necessary for reproduction in lake trout. When the lakers were pigging out on nothing but alewives, they were rendered virtually non-reproductive. It took years of stocking lakers on the deep-water reefs in the middle of Lake Michigan to get to where we are now; more than 30 percent of Lake Michigan's lakers are now produced naturally.
'ÄúA decade ago there wasn'Äôt much natural reproduction,'ÄĚ said Jay Wesley, the Lake Michigan Basin coordinator with the Department of Natural Resources. 'ÄúWe'Äôve really seen a jump in the last 10 years. We'Äôre very close to calling southern Lake Michigan recovered and there are only two sites in southern Lake Michigan that are being stocked 'ÄĒ one in Illinois and one in the mid-lake that Wisconsin stocks. Michigan discontinued all of its lake trout stocking south of, really, Ludington.'ÄĚ
Perhaps the biggest by-product of the declining alewife population has been the improved quality of lakers since they've changed diets. Many Lake Michigan lake trout are now as orange as spring coho, not as pale-fleshed as they once were. Everyone agrees they're better table fare than they were in the past.
So now that lake trout are more acceptable to anglers, will the reduced stocking make them harder to come by? It's a fair question.
'ÄúThere appears to be a very healthy population,'ÄĚ Engel said. 'ÄúIt would be a crying shame to let it go downhill.'ÄĚ
Bob Gwizdz is a longtime outdoors writer and has also worked in public affairs for the Michigan Department of Natural Resources.
Source: https://www.record-eagle.com/news/local_news/bob-gwizdz-lake-trout-more-dependable-than-spectacular/article_cf3b54d5-6e42-5ac8-ba71-7afc382e9aeb.html